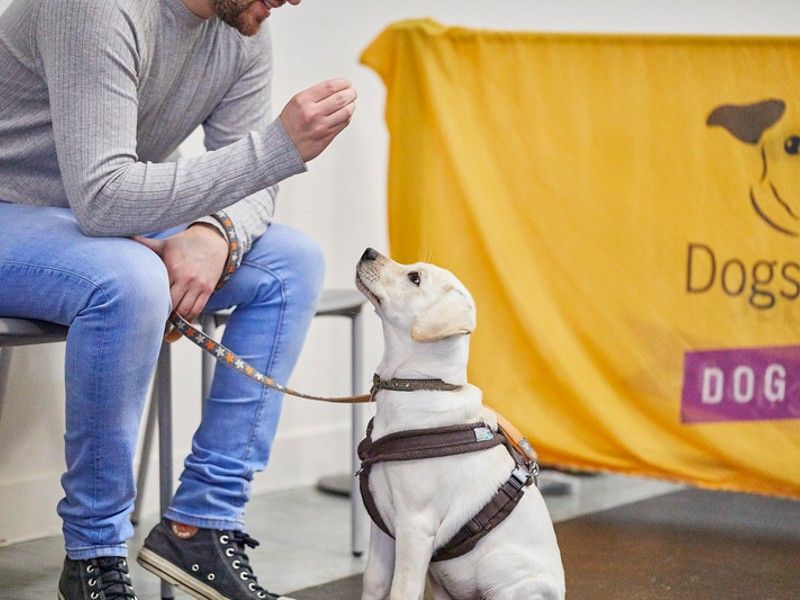 We're dedicated to helping owners understand their dog's behaviour and avoid common pitfalls that can lead to problems further down the line.
Our Dog School training course provides essential advice about dog training and behaviour, to help you create a lifelong bond with your dog.
Lesson plan
What you get:
Four training sessions, over four weeks
Access to an online video that introduces Dog School topics
Access to the Dog School owner website
121 support from Dog School coaches
Length of course: 4 weeks
Introduction to Dog School topics – video
Developing a positive relationship with your dog
The importance of social behaviour in dogs
Recognising your dog's body language, and what they're trying to tell you
How dogs learn
Helping dogs learn to cope with being alone
Dog training: the basics.
Training session: week 1
Introduction to basic training theory
How to encourage your dog to settle and relax
How to play with your dog in a way that won't encourage problem behaviours
Teaching your dog a marker word
Teaching your dog to sit
Starting to train your dog to come back when called.
Training session: week 2
How to progress the skills you learn at Dog School
Getting your dog's attention when their name is said
Training your dog to walk nicely on a lead - continued
Training your dog to come back when called - continued
Helping your dog be comfortable when being handled (for example, during vet visits or at the groomers)
Recap and refresher of last week's skills.
Training session: week 3
Progressing your Dog School training, and how this links to training in real life
Starting to use equipment when handling your dog
Training your dog to walk nicely on a lead – continued
Training your dog to come back when called – continued
Start to train your dog to leave things when asked.
Training session: week 4
Introducing sounds and helping your dog get used to them
Recap of everything learned at Dog School so far, and how to take your skills further.
Dog School Support Hub access
Dog School owners get access to exclusive training and behaviour content on our website, which will help you build a great relationship with your dog. The content includes:
Chewing and mouthing
Toilet training
Ensuring your dog is happy being left alone
How to prevent guarding behaviours - for example, guarding food and toys
How to socialise your dog with other dogs and people
Introducing your dog to new and novel things.
Support from Dog School coaches
Dog School coaches will be on hand throughout your course to support you on any areas you feel you need help with. Our aim is for you to finish the course feeling confident about what you've learnt and how it will help you raise your puppy or dog.
FAQs
Why are Dogs Trust running training classes?
Dogs Trust recognise the need for affordable behavioural and training support in the community. We believe that Dog School will help raise awareness of dog behaviour, strengthen the bond between owners and their dogs and help to address and prevent the development of unwanted …
...
I have an existing problem with my puppy's behaviour, are classes suitable for me?
Our training classes are aimed at giving you information and skills that you can apply to your puppy's behaviour in any situation. If you have an existing issue that would require help with please contact your local coach and describe the problems you are having. It may be …
...
What will I learn about
We aim to teach you to understand how your dog communicates and learns in a fun, interactive environment. We will support you in developing the skills needed to help them become happy, confident, well behaved canine citizens. We will achieve this through practical training and …
...
What sort of training methods are used?
We only use positive training methods supported by the most up to date research on dog behaviour. We will never use methods that intimidate or harm your dog.
What should I bring with me?
Please bring the following to each class: your dog's bed/blanket, a selection of your dog's favourite treats and one or two of his/her favourite toys. If your dog requires any medication or has a specialised diet, please bring these to class – it's also important to get in …
...
Can I contact coaches between classes?
Yes! Please feel free to contact your coach between classes if you would like further support or have any questions. The best way of getting in touch is via email so that your coach has the time to give your response their full attention. Your coach will advise you on the best …
...
What happens if I miss a class?
Please try to let your coach know as soon as possible if you are unable to attend a class. You will be provided with the training guide for the week you missed so that you can catch up at home. We are not able to offer replacement classes or refunds but will help you catch up …
...
Will I see the same coach each week?
We will try our best to make sure you see the same coaches each week for your classes, because we think it is important for us to get to know you and your puppy. The coaches work in teams of three, so you should get to know all the team members over your course. Occasionally …
...
What happens at the end of classes?
At the end of class we will again ask that you keep your distance from other owners and dogs. We will guide you out of the class one at a time, please remember to keep your distance from the other students as you are leaving the building and returning to your cars.
I have already attended the puppy class, should I now attend the adolescent class?
As our dogs mature they continue to change and develop and it's important to recognise that our puppies will become adolescents. With this, their training needs can often change. You may have noticed that your young dog is now more confident to move further away from you when …
...
I have already attended the adolescent class, should I now attend the adult class?
As our dogs mature they continue to change and develop and it's important to recognise that our adolescents become adults. With this, their training needs can often change. You may have noticed different behaviours developing in your dog or are experiencing a change of routine …
...
Do I have to sign up for another course immediately, or can I wait until my dog is older?
You can re-join Dog School classes any time! Your dog's age at the time of joining will determine what class you will join. Visit the home page for a reminder of how we classify the ages of our classes. Whilst most of the exercises taught are the same across all age brackets, …
...
Can I bring along more than one dog from my household to training classes?
We welcome owners to attend with multiple dogs from one household. Each dog must be booked onto the course separately. When attending the classes, each dog must have at least one handler over the age of 18.
How do I book more than one dog onto a course?
If you would like to book more than one dog onto a training course, please complete a separate enquiry form for each dog. This will help us make sure we understand each dog's specific training requirements and ensure that there are available spaces on the course.