How to adopt a dog
Everything you need to know about adopting a dog from us.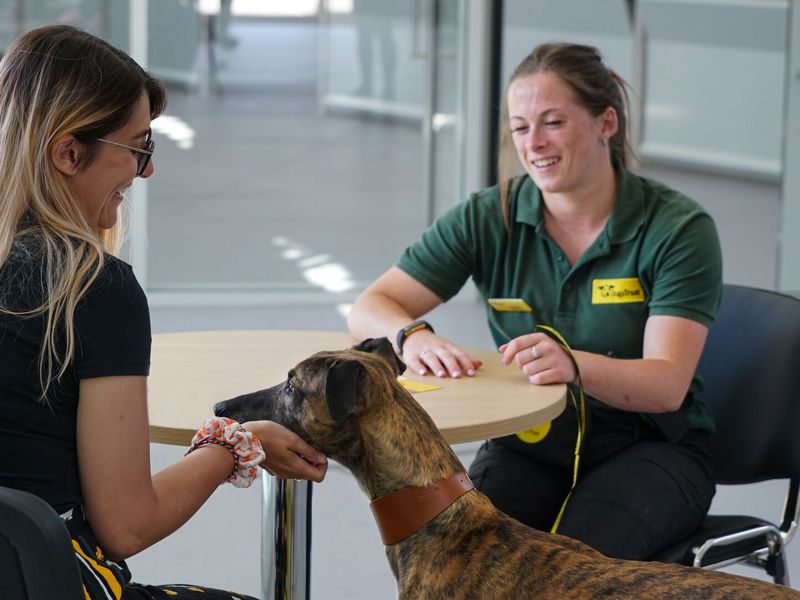 Is there an empty space on your sofa where a dog should be? This could be the time to look for a new faithful friend.
Adopt a dog from us, and you'll be doing three brilliant things in one: 
making your life more fun and fulfilling 
giving a loving home to a deserving dog  
helping us to care for even more dogs. 
In this guide, we'll walk you through the journey of adopting from us and explain how we match dogs and people.
Apply once and we'll find your ideal match
With our new rehoming system, we'll do the runaround searching for the right dog for you. Fill in our form once (to tell us all about your home and lifestyle) and we'll keep your application open for three months while we search for a great match. You don't need to apply again or contact us in that time, we'll get in touch with you. If we don't find the right dog, we'll let you know and invite you to reapply.
How our rehoming process works
Create an account and fill out our application form
To apply to adopt, first you need to create an account. It's quick and easy.
Fill in our form to tell us all about you, your home and lifestyle. We'll use this information to look at all available dogs at your chosen centres and try to find a …
We'll keep looking for your ideal match for three months
We'll be in touch within seven days of receiving your application and start looking for a great match for you. You won't need to do anything else or apply again for three months as we'll be actively looking to match you with a dog.
If you seem well …
We'll support you to embark on a new life with your dog, or continue the search together
Hopefully we'll have matched you with your ideal dog and helped you welcome them to your home. We'll keep in touch to see how you and the dog are doing. If you need any advice or support, we're just a phone call away or you can browse our dog advice section.
If …
We want to find all our dogs a loving forever family. . If you want to adopt from us, fill in our application form to tell us about you, your lifestyle and your home so we can find you a great match.
You won't need to apply again for three months as we'll be actively looking to match you with a dog.
Meeting potential matches
If we've found a dog who seems right for you, we'll invite you to come and meet them at the rehoming centre.
Some of the dogs in our care will need to meet potential owners several times to get to know one another. This lets us see you're compatible and gives you the chance to build a bond before making a commitment to give them a new home. By taking some time at the beginning to make sure everyone's comfortable, an adoption is more likely to be successful. 
We may also arrange a home visit with you, to see how your house will be set up and check that the garden (if you have one) is secure. This may not be necessary, though, especially if you've adopted from us before. Where you already have dogs, we may accept a reference from your vet as an alternative.
Taking your dog home
If we mutually decide you and the dog are well suited, then we'll arrange for you to take them home.
There'll be some paperwork to sign, and we'll give you lots of advice to help make your adoption a success.
Your dog will go home with:
Their Dogs Trust collar and lead
Four weeks of free pet insurance thanks to our partners Petplan and information about continuing your insurance cover
A dog care handbook
Microchipping information
Several days' worth of the dog's current food.
Before you pick up your new dog, they will be:
fully health checked
up-to-date with their vaccinations and treatments, like worming
neutered (or if we haven't neutered them for some reason we'll give you a neutering voucher)
microchipped
How we match dogs and people
We want every dog in our care to find the best possible forever home and live a happy life. We get to know each dog in our care and pride ourselves on our thorough behavioural and veterinary assessments which help us match them to the right home. We rehome to all kinds of people and families living in different types of home – it just depends on the needs of the dog.
When we're reviewing applications, we need to know that you'll be a responsible owner and that now is the right time for you to adopt.  We also need to see that your home set up is suitable for a dog and you'll be able to meet their exercise, diet and training needs.
We will be honest if we don't feel your circumstances are right to adopt a dog. Otherwise, we'd be doing a disservice to ourselves, our dogs and to you. It doesn't mean you won't be able to adopt from us in the future if your situation changes.
What we ask of you
We rehome based on the needs of the dog, but there are some rules that we always stick to.
We:
will only rehome to primary adopters who are 18 years of age and over
ask that everyone in your household meets the dog before it goes home with you
don't use any aversive training methods – such as anti-bark or shock collars – ourselves. We won't rehome to families who wish to use them once they have a dog. (If you'd like to train your dog using positive reinforcement, check out our Dog School classes)
won't rehome dogs to live outdoors only, unless it's in the best interests of the dog. And we won't rehome to a family who plan to chain or tether their dog
won't rehome an unvaccinated dog to a home which already has an unvaccinated dog
won't rehome an unneutered dog to a home which already has an unneutered dog
won't rehome to a person, or household containing a person, who has an unspent conviction for offences relating to animals.
We also ask you:
to get your landlord's permission before reserving a dog, if applicable
to ensure that the adopter chooses the dog themselves – we won't agree to someone adopting a dog as a gift
to agree to continue with any behavioural rehabilitation or training we recommend 
that if you adopt a puppy from us, you agree to attend our Dog School. (If you adopt an adult or adolescent dog from us that would benefit from classes, they can attend at a reduced rate) 
not to leave your dog alone for longer than they can cope with. See our advice guide to preparing your dog to be left alone
to ensure that your dog has access to a suitable outside space for exercise and toilet breaks. 
We'll check in with you by phone a couple of days after you adopt, and we're always on hand for advice and guidance. Find out more about how we support you and your dog after adoption.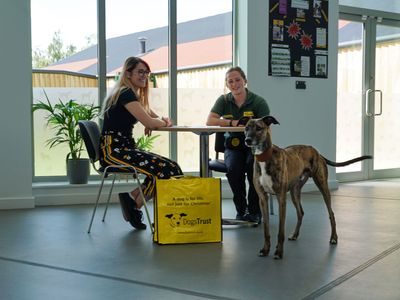 Our support doesn't end the day you take your dog home. Find out how we can help you and your pooch post-adoption.
Frequently asked questions
What if there's a problem after I adopt?
Please get back in touch with us if you start to struggle with your dog. We offer behaviour advice and support for the …
Would you take back a dog adopted from you?
We'll always take back a dog adopted from us, whatever the reason and however long it is since you first adopted from …
Can I apply to adopt a particular dog?
No. We've changed our rehoming process to give all dogs an equal chance to find a family and more dog lovers the …
How long will it take to find a match?
We hope to be able to match as many suitable applicants as possible with a dog within three months. But if after three …
Why have you changed your rehoming process?
We've received over 100,000 adoption applications already this year. Some dogs get hundreds of applications, whilst …
Related articles

Getting a dog
Choosing your dog

Are you ready for a dog
Top 10 benefits of adopting from us

Rehoming
How we support you and your do...