Top 10 benefits of adopting from us
Adopting a dog from Dogs Trust is incredibly rewarding and it gives a dog a second chance at happily ever after.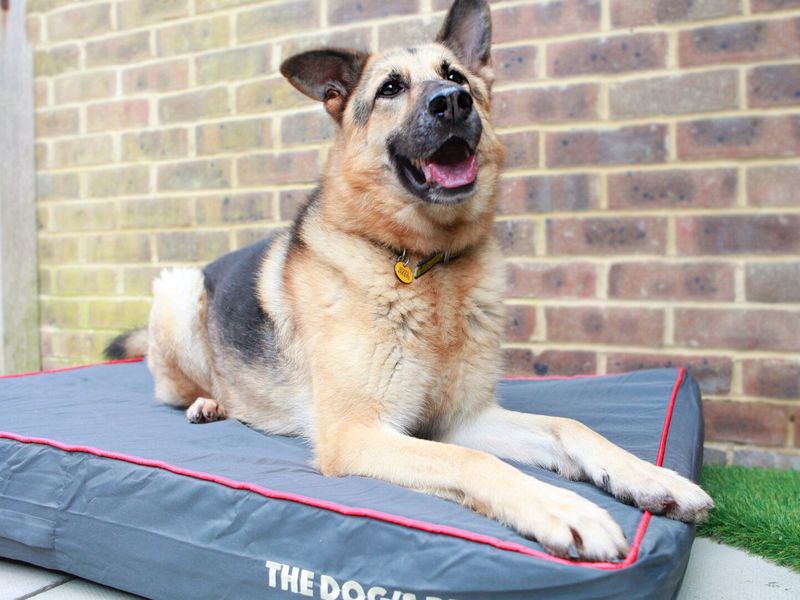 We believe all dogs deserve a loving home. By adopting from us you're offering a dog a second chance at a life and home to call their own. But that's not the only reason to rescue a four-legged friend; keep reading for our top 10 reasons to adopt a dog from us.
10 reasons to adopt a dog from Dogs Trust
1. The chance to welcome a furry friend into your life
We might be a little biased, but we think dogs are the best. They're fantastic companions and can make your life more fun and fulfilling.
But owning a dog isn't always a walk in the park; it takes time, money and patience. Adopting a dog is a big commitment and will hopefully be a long-term relationship. Read our advice on what to consider before getting a dog.
2. We'll help you find the perfect match
We get to know every dog in our care, and all their little quirks, so we can determine exactly what they need in a home. When you apply to adopt from us, we'll ask all about you, your home and your lifestyle, so we can help find you the perfect pooch match. We'll take your preferences and the dog's needs into account, and we'll support you every step of the way.
Some dogs will need to meet potential owners several times to build a bond before going home. So, you can be confident about welcoming a dog to your family and get on with living your best lives together.
3. We've got rehoming centres across the UK
From Ballymena to Cardiff, West Calder to Ilfracombe — we have 21 rehoming centres across the UK. Every centre has specialist facilities and expert staff to offer dogs the best possible care and get them ready for their forever home. Find your nearest centre and meet the dogs that are currently looking for their forever family.
4. Adoption is cheaper than buying a dog and you'll know your new pet has a full health check
Our rehoming fee is significantly cheaper than buying a dog. Even better, the fee also covers a full vet check, vaccinations, up to date worming and flea treatments, neutering (or a neutering voucher) and microchipping. This saves you having to organise and pay for all these essentials yourself.
5. We supply their collar, lead and first week of food
There's a lot to think about when you get a new dog. Check out our handy shopping list for everything you'll need. To get you started, we send your new dog home with with a Dogs Trust collar, lead and their first week of food.
6. All dogs adopted from us are insured for the first four weeks
Every dog that leaves our care receives four weeks of free insurance from our partner Petplan. After four weeks, you can choose to continue with that insurance or switch to a different provider. Do some research to find the best insurance for your dog. Find out why insurance is so important.
7. We'll give you heaps of training support and advice
When you take a dog home from us, we'll tell you all about them and help you to understand each other. If they've got a bespoke training plan, we'll support you to continue this at home. If you adopt a puppy from us, our Dog School classes are included in their rehoming fee, so you can get off to a great start with their training. For older dogs, we offer a discount on a our fun four-week Dog School course, so you can still get set up for success together. Find out more about Dog School.
8. We provide lifetime support
Our support doesn't end the day you take your dog home. We're here for you and your new best friend every step of the way in your life together.
We'll contact you a few days after adoption to see how you're getting on and ask permission to call you again two weeks and four months after adoption. Then we're always just a phone call away, ready to offer free training and behaviour advice for the duration of your dog's life. Find out more about our post-adoption support.
9. You're offering a dog a second chance, and improving the life of even more dogs
Dogs come into our care for many reasons; what they all have in common is the need for a loving home. When you adopt from us, you're transforming a dog's for the better, and you're helping the next dog too. Every time one of our residents goes to a new home, we have space to take in another dog in need, so we can be there for even more of our furry friends.
10. You'll join a community of adopters
Dogs adopted from us are always part of the Dogs Trust family, and so are adopters. We love to hear from adopters and see their dogs thriving in their forever home. You can send us updates, connect with us on social media, or bring your dog to events at our centres. The Dogs Trust community spans across the UK, and you'll be part of it. And keep an eye out for other yellow collars in the park.
Interested in adopting from us?
Do you want to rescue a Dogs Trust dog? Find out how adoption works and apply today
If you're not ready, why not consider fostering? You'll get all the benefits of a pooch while helping a dog in need as they wait to find their forever home.