Considering giving up your dog?
We'll help you make the right decision for your dog.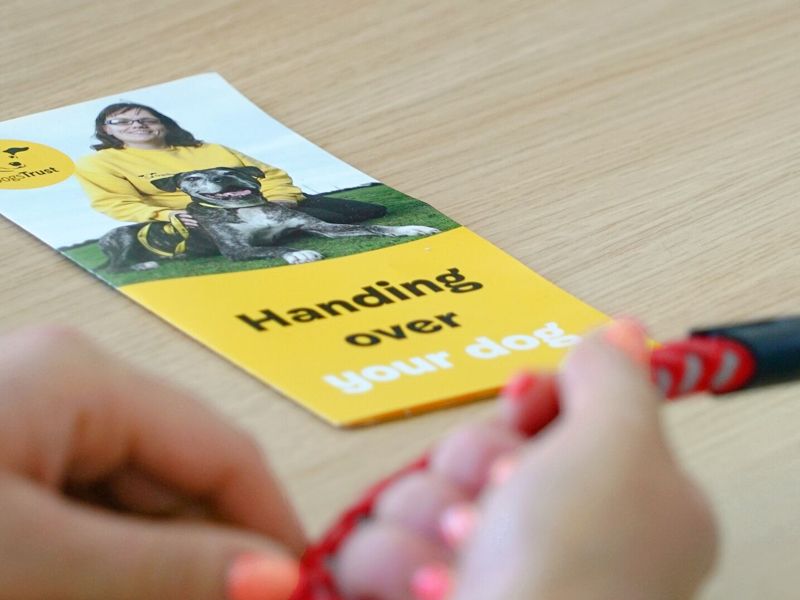 Giving up your dog is a tough decision, but one that is sometimes out of your control.
There are many reasons why you might feel you need to give up your dog, and we're here to help. We won't judge you if you decide it's best to find them a new home.
Alternatives to consider before giving up your dog
Before you decide
Before you decide to give up your dog, consider some alternative options that might help you stay together.

You can also try our advice tool for helpful support tailored to your situation.
What happens if you give up your dog to us
Giving up your dog: Our process
Find out how to give up your dog to Dogs Trust; how the process works; and how you'll be supported through this difficult journey.
What happens after you've given your dog to us
Discover how we care for each dog as an individual while we search for a new owner for them.
Frequently asked questions
It's an emergency, can you take my dog now?
We'll do everything we can to help in an emergency. If we have kennel space free, we may be able to take a dog straight away. Don't hesitate to give us a call to discuss your situation on 0300 303 2188 (Phone lines open everyday from 8.30am to 5pm).
Alternatively fill in our …
...
Can you look after my dog temporarily?
We're unable to offer temporary boarding for dogs. This is because we need to prioritise caring for those who are without a home and are most at risk of being put to sleep. If you need temporary boarding for your dog, we recommend contacting your vet who may be able to …
...
I don't live near a Dogs Trust location. Can I go somewhere else?
You don't need to live near one of our locations to give up your dog to us – we take in dogs from all over the UK. You will need to travel to one of the areas in which we work, though. Give us a call on 0300 303 2188 and we'll do everything we can to help.   
If it's not …
...