A lifetime of care with a Canine Care Card
It's hard to imagine that anyone could love and care for your dog as much as you do. But we promise we will.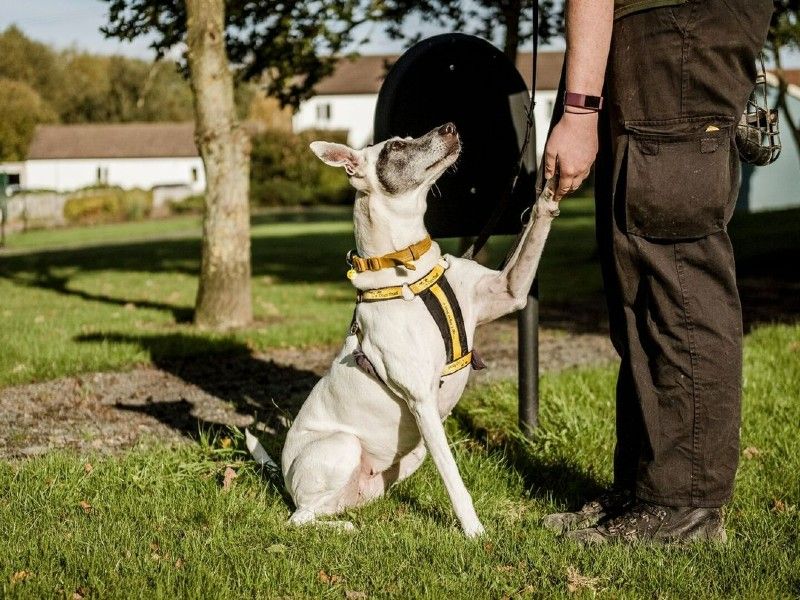 We know that the bond between you and your four-legged best friend is entirely unique. It's hard to imagine that anyone could love and care for your dog as much as you do. But we promise we will.
If you become seriously ill or pass away, we will look after your canine companion, help them get back on their paws, and find them a home.
Banned breeds
Unfortunately, we are unable to activate a Canine Care Card if your dog is a banned breed. Due to UK legislation, we are currently unable to take into our care any dog categorised as an index dog or any dog that has limitations imposed under the Dangerous Dogs Act 1991.
How to become a Canine Care Card holder
Choose your Dog Guardian
Your Dog Guardian can sign your dog over to us if you're not able to. Make sure it's someone you trust, like a friend, family member or solicitor. Ask them before you apply, as we'll need their contact details.
Complete the online application form
Have the contact details of your chosen Dog Guardian and your dog's microchip number to hand before you begin.


Receive your Canine Care Card
When your Canine Care Card arrives, fill in the details and pop it in your wallet or purse with your other cards, so that it can always be found.

Leave instructions in your Will
Confirm your wishes in your Will to help ensure they're fulfilled. We suggest the wording: "It is also my wish that Dogs Trust cares for and/or rehomes my dog at the time of my death".
Not ready to apply?
If you don't have all the information needed to hand why not request a reminder email? We'll help to ensure you have everything you need to get started and protect your dog's future.
How our Canine Care Card service works
Your Dog Guardian should notify us on 020 7837 0006 should the worst happen. It is the responsibility of the Dog Guardian to arrange interim care for your dog whilst we arrange for them to come into one of our rehoming centres – usually the one closest to you with availability.
If a neighbour or next of kin can bring them to us, that is always extremely helpful. However, if this is not possible, we will arrange for a member of staff to collect them.

Every dog that comes into our care will receive an assessment from our qualified behaviourists. This makes sure we can provide the best possible care for your dog and find out what home would suit them best.

In your Canine Care Card application form, you can tell us all about your dog's likes, dislikes and quirks, which will help us get to know them too.

Once your dog is ready to be rehomed, all potential adopters are asked to attend a pre-adoption talk to discuss how to make their new dog feel welcome and settle in with a minimum of stress.

Our brilliant team provides Post Adoption Support to every adopter – with lifelong advice, guidance and information. Find out more about our Post Adoption Support.

Remember, we never put down a healthy dog, so if for some reason it takes us a little longer to rehome your dog, you can be sure that they will be happy and healthy with us, until their loving new home is found.

There are some cases where we may not be able to activate a Canine Care Card
We love all dogs. Although we want to be able to care for any dog whose owner has passed away or become seriously ill, there are some cases where this might not be possible.
Unfortunately, we are unable to activate a Canine Care Card if your dog falls into one of the categories below:
Extreme aggression – to protect the other dogs in our care, along with our staff and volunteers, we are unable to take in dogs that pose a danger to human life or other dogs in our care. This could be aggression issues or a contagious medical condition.

Banned breeds – due to UK legislation, we are currently unable to take into our care any dog categorised as an index dog or any dog that has limitations imposed under the Dangerous Dogs Act 1991.

Living overseas – the UK has managed to eradicate or control certain illnesses and diseases that impact the dog population. Therefore, to protect the dogs in our care, we are unfortunately unable to accept dogs currently living overseas and would recommend that you make local provision for your dog's care.
We know that dogs come in all shapes and sizes, and they all come with a different story. If you aren't sure whether your dog falls into one of these categories, please call us on 0207 837 0006 and our dedicated team will be more than happy to discuss this with you.

Some helpful tips to make sure your application goes smoothly
Please be sure to update your Will to include the Canine Care Card information and notify family and friends of your wishes
Please let us know if you change your address
Please let us know should your Dog Guardian details change
Please keep your microchip information up to date
Please keep your dog up to date with any vaccinations
Please update us with any medical or behavioural conditions
Please let us know if you get another dog or if your dog sadly passes away
Remember to carry your card with you, as you would an organ donor card
We treat all dogs as though they are a beloved family pet
If your dog has an ongoing medical condition, then we will give them the love and treatment they need. To make sure we're able to do this to the very best of our ability, please supply us with as much information about their treatment as you can, including their vet info, their medication and dosage so we can administer the medicine correctly.
If you have more than one dog, we will bring them into the comfort of our kennels and house them together for as long as they are happy and for as long as is beneficial for both. We sometimes find that even the best of friends can enjoy having their very own space to relax, and see each other for walks and play times.
As we want to give every dog the best chance of that loving new home, should a prospective owner seek to rehome just one dog we would not want to deny any of your dogs a loving home.
Please note, unfortunately, we don't have the facilities to look after other species of pets. We advise that you contact the other animal welfare charities in your area to see if they can help or can offer a similar service to the Canine Care Card.
How the Canine Care Card changed the tale for Max and Wills
First adopted from Dogs Trust in 2014, Max and Wills, both Yorkshire Terriers, lived with their adoring owners until they sadly passed away.
Max and Wills' owners had signed up for a Canine Care Card, and with the help of their family, we were able to take the couple's beloved dogs back into our care. 
After a short stay at Snetterton rehoming centre, Max and Wills were rehomed together.
Max and Wills are a blessing, and we are very happy that they chose us. They have settled in extremely well and are a joy. They make us smile every day.
Max and Wills new owners:
Secure a future for thousands of dogs
Many people who join the Canine Care Card service also decide to leave a gift to Dogs Trust in their Will, as a way of saying thank you for securing the future of their canine companion. Gifts in Wills are crucial, as they account for over a third of our income and help save the lives of countless dogs.
Will you leave a gift in your Will today?
Related articles