How we support you and your dog after adoption
Our support doesn't end the day you take your dog home. Find out how we can help you and your pooch post-adoption.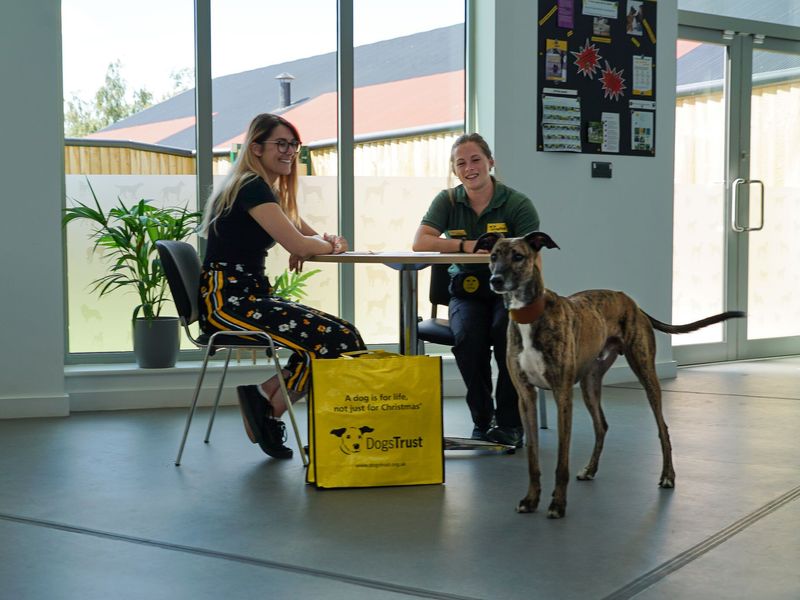 When you adopt from us, it's the start of an exciting journey for you and your pooch. As you set out together, there are bound to be a few bumps in the road. You might worry about your dog barking at other dogs. Or need help to settle them at night, or with continuing their training.
Whatever the challenge, our post-adoption support is here for you. We'll give you expert behaviour and training advice over the phone to help support you and your faithful friend. We're here for you for the rest of your dog's life. You can contact us when you need help, however long ago you adopted.
Following up with you by phone
We phone our adopters at around two days after adoption to find out how you and your dog are getting along. We'll also ask permission to call you again two weeks and four months after adoption.
While the second and third calls are optional, we'd recommend that you say yes to this extra support, so we can help with any ongoing or new settling queries promptly.
This will reduce the chance of problems developing. We're here to help with every problem, big or small, so don't hesitate to ask us.
When we call, we'll check that everything's going well. We'll ask some questions about your dog's health and about their behaviour in their new home.
If we discuss anything that's a concern to you, we'll refer you to our expert behaviour team for specific advice. This can take up to five days as we're always busy helping owners. But we'll contact you just as soon as we can to talk things through and provide help.
If you have an issue that needs a more in-depth conversation, you can ask to speak to our team of dog behaviour experts, or our customer support centre will suggest that themselves. They will let you know how quickly a behaviourist will be able to call you back.
If you have times that you're unavailable, please let us know as our behaviourists will avoid calling you then.
When a behaviourist calls you, they'll listen to your experiences so far and may ask a few more questions to make sure they have a thorough understanding. After that, they'll build a plan with you that's tailored around your individual situation and your and your dog's needs.
Get in touch whenever you need us
When you need advice and support, you can phone us directly – there's no need to wait for our scheduled calls. In fact, we'd recommend that you call as soon as possible. Our customer support centre advisors are available on 0300 303 3738 and lines are open 8.30am to 5pm, seven days a week.
You can also email our post adoption support team if you'd prefer.
When you call, a friendly adviser will ask you some questions. They may be able to help you there and then, or they'll refer you to our expert behavioural team for a call back.
Here for you and your dog at every step
We're here for dogs from the moment they arrive into our care, and for the whole of their lives. Our support continues even after we've found them a happy new home and waved them off with their new family. When you adopt a dog from us, you can feel reassured that we're on hand with expert advice whenever you need us.
Our research: helping dogs into the future
If you'd like to go one step further and help adopted dogs in the future, you can sign up for our Post Adoption Welfare Study research project.
At the time of adoption, we'll ask for separate permission to send you online surveys at specific points after you adopt. We'll use the results to enhance and improve the welfare of adopted dogs worldwide. Your involvement will make a real difference to our work.
Need a hand teaching your dog life skills?
Dog training advice
Need help with common behaviour issues such as excessive barking, or separation-related behaviours? Want to help your pooch walk on a lead, or to come back when you call? Our dog advice section is full of guidance to help you and your adopted dog.
For every dog, for every owner, we're by your side every step of the walk. Our expert advice covers everything you need to know about owning a dog.
Dog school
Prevent problem behaviours from developing by checking out our Dog School classes. You'll get expert advice and practical training to help you and your pooch understand one another better.
Related articles

Rehoming
Veterinary Support Fund

Life at home
How to help a rescue dog get settled into your...