Fundraising ideas
From sponsored silences to bake sales, discover some fundraising ideas that will get tails wagging!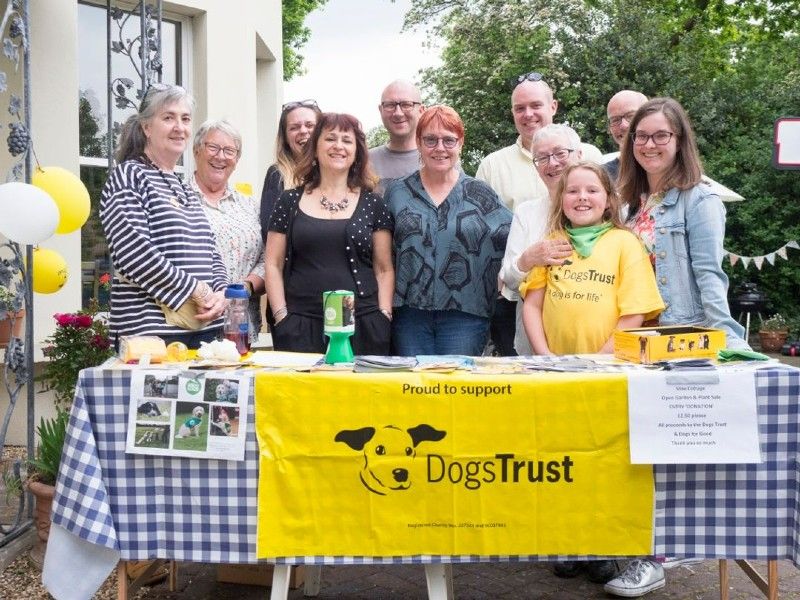 We couldn't do what we do without the support of our amazing fundraisers! Whether you fancy a sponsored silence or an office bake sale, every penny raised directly helps the dogs in our care all over Britain.
Here are some of our top fundraising ideas to inspire you
Sponsored dog walk or run
Get together the dog walkers from your local park. Choose a scenic route for a 5k or 10k walk and make a day of it! For advice about taking part in a sponsored dog walk email our Fundraising Team or check out our full list of running events!
Dog show
How about organising a fun Dog Show? Invite local dog owners to the park to take pride in their pooches. Prizes could include best in show, waggiest tail, dog that looks most like their owner...
Coffee morning or afternoon tea pawty
Organise a relaxed coffee morning to catch up with your friends.
Bake sale
Organise your own Great British Bark Off at work or at a summer fete. Then find an expert to judge the cakes by appearance and tastiness!
Car boot sales or jumble sales
Make space in that garage and raise funds for us at the same time. Why not sell your unwanted items and donate the profits to the dogs?
Talent shows
We all have hidden talents! Organise an event with friends and family to show off their secret singing or circus skills.
Name the dog
Play the classic game of Name The Teddy. 20p a guess and it all adds up!
Birthdays
Throwing a birthday party and bored of the same old gifts? Why not get your friends and family to donate to us instead! For donation envelopes, please email our Fundraising Team.
Long distance walk
Take in scenic countryside and plan a route along one of the UK's many historic walks. Camping or staying in B&B's along the way and collect sponsorship from family and friends.
Golf tournament
Member of a Golf Club? How about organising a fun golf tournament!
Football tournament
Start a league at your sports hall and get local players to join in for a kick about..
Battle of the bands
Book your favourite local bands to play in a 'Battle of the Bands' competition.
Karaoke evening
Do your friends fancy themselves as the next Adele? Or maybe dad is a bit of an Elvis? Organise a karaoke evening and put their vocal talents to the test!
Pub quiz
A pub quiz is a fun way to get your friends in your local pub involved. Put their general knowledge to the test and remember to include a few dog-related questions!
Raffle
Hold a raffle at work or at a local event by asking local businesses to donate prizes. A raffle can be an excellent way to raise funds but it does come with some rules.
Please visit the Gambling Commission for details about holding a fundraising raffle.
Murder mystery evening
Get your Sherlock Holmes hat on and solve the mystery with your friends.
Photo competition
How photogenic is your dog? Ask a group of dog-loving friends to submit a photo of their little treasure along with a donation. The best photo wins a prize.
Waggy tail trail!
Organise a treasure hunt for your friend and their dogs. Search for clues around an area of interest to find a prize.
Zumbathon
Get fit and have fun with your friends!
Come dine with me
Host an evening for your friends and judge on meal, entertainment and ambience.
Give up a vice
Do you drink too much coffee, or can't resist dipping your hand in the biscuit tin at 3pm? Get sponsored for a month off.
No matter what you decide, we're here to support you all the way. Get in touch with our friendly Fundraising team to let us know about your fundraising idea to receive lots of goodies from us, and receive our fundraising pack!
From all the dogs in our care, thank you for your suppawt!
Contact our fundraising team
Questions? Get in touch with the team
Request a free fundraising pack
Set up your fundraising page
Once you've secured your place in your chosen running event, we recommend setting up your fundraising page on JustGiving. Creating an online sponsorship page with JustGiving makes it easy for sponsors to support you online and all donations will come directly to Dogs Trust, so you don't have to worry about collecting donations or transferring any funds over.

It's super simple to get started, just click the button below to visit our JustGiving fundraising page and select the 'Fundraise for us' option. Thank you so much for fundraising for all the dogs in our care, we are so grateful for all your support!

Take a look at our fundraising guide
We're here for you every step of the walk...or run, or bake sale!
Check out our guidance for organising an event and find out how we can be by your side while you're doing it.
Related articles

Fundraising
Your guide to fundraising for us
Philanthropy and major giving
How your support makes a difference