Our people
From canine carers and our chief executive to our volunteers, discover more about the people behind our work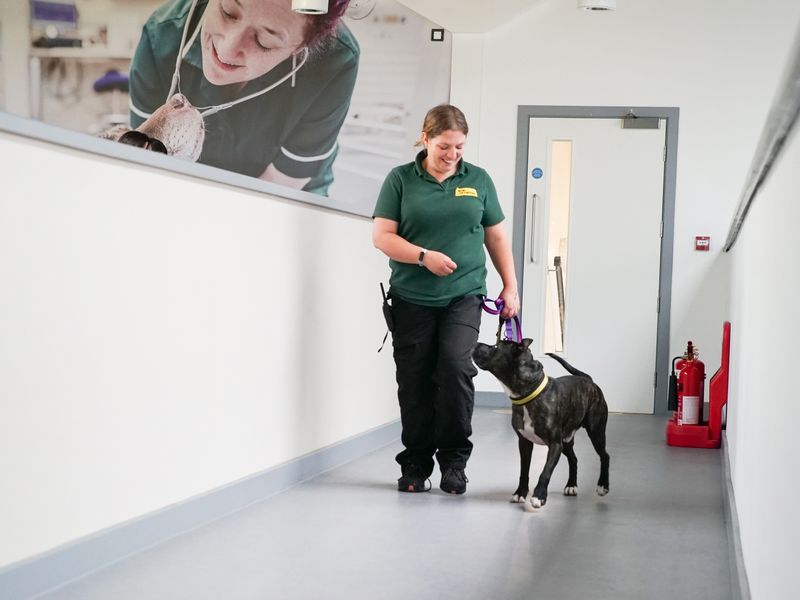 Our people make us who we are.
From canine carers to behaviourists, vets to volunteers, every member of our family plays an important role.
Our shared love for the dogs in our care and passion for creating a better future for dogs drives our work, and we're here for dog owners every step of the walk.
Meet our chief executive, Owen Sharp
Owen joined Dogs Trust in 2019, bringing extensive third sector experience to our dedicated leadership team.
His career began as an A&E nurse in Glasgow, where he progressed to leadership roles across the NHS, before joining organisations such as Victim Support and Prostate Cancer UK, and later becoming Global Chief Executive of Movember. 
Owen was excited by the awe-inspiring scope and variety of work at Dogs Trust. From helping thousands of pooches to find their forever homes, to aiding individuals escaping domestic abuse with their pets — no two days at Dogs Trust are ever the same.  
As a massive dog lover, Owen has two of his own; Dixie, a seven-year-old Labrador-Poodle cross, and Alexis, a one-year-old Saluki-cross. Alexis was adopted from Dogs Trust Basildon, having initially been found as a stray. Owen fostered her at first, before falling head over heels in love and giving her a forever home, an occupational hazard of being a Dogs Trust foster carer!
People like Steve keep us going
Dog Ambulance drivers like Steve are the lifeblood of our operation. Steve – and his ambulance – travels for miles across the country, helping rescue dogs into our care. Meet Steve and find out what his important role means to him.
The faces behind Freedom
We love dogs, and we love the people who love them too. We're committed to helping make tomorrow's world a better place for dogs and their owners. Our Freedom Project supports those fleeing domestic abuse by caring for their faithful friend until they're back on their feet.
Discover how the Freedom Project and the people behind it – from caring coordinators to fantastic fosterers – go the extra mile every single day.
Related articles

Rehoming
Is fostering a dog right for you?