Your guide to fundraising for us
Everything you need to know about fundraising for us, how we'll support you to help improve the lives of dogs.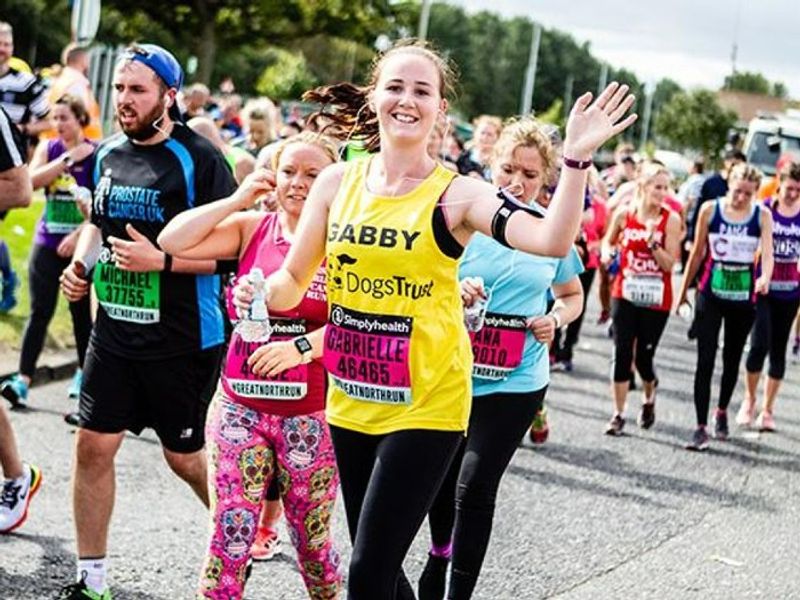 We couldn't do any of the brilliant work we do without the kindness and generosity of dog lovers everywhere. It's thanks to your support that we are able to help the dogs who need us.
Challenge yourself 
You can put the fun in fundraising with exciting and challenging physical events, like cross-country runs, skydives and long-distance cycles. Some of them, like the annual Dog Jog, you can even do with your four-legged friend!
Find a challenge or running event for you down below!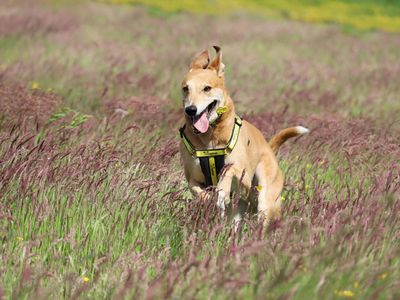 We're grateful for every pound raised by amazing supporters. Discover how you can raise vital funds to support our work by raising your heart rate too.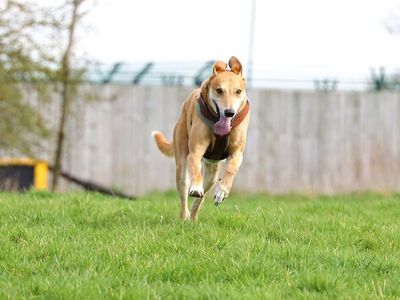 We have the running event for you! Each year, hundreds of our amazing supporters get active and raise vital funds to support our work.
Fundraising at work 
Nothing brings teams together quite like a bake sale! Discover some of our top ideas for fundraising in the workplace.
Dress down day. Trade the power suit for a tracksuit for a day.
Bring your dog to work day. But first, make sure you and your colleagues know how to prepare your dog to go to work with you.
Bake sale. Why not take some dog-friendly bakes for the dog owners?
Dress in Dogs Trust yellow. It looks good on everyone. Trust us.
Hold a raffle. Your colleagues could donate prizes to be won.
Sponsor a colleague. How much tea can they really make?
Swear box. There's always one! £1 per cuss can really add up.
Payroll Giving. Payroll Giving is a simple and effective way for you to donate to Dogs Trust on a regular basis. Because your donation is taken from pay before tax, it means every £1 you give it will only cost 80p (or maybe even less!) and the tax man pays the rest! Discover more about Payroll Giving.
Other ways of fundraising
Street and supermarket collections
Organised collections can be an invaluable way to collect much needed funds for the dogs in our care. However, they do require a certain amount of planning.
Street collections and any collections in a public place require a licence from the local council. The first step is to contact them to apply for a licence. Then we will be able to allocate you an ID badge and collection box.
Permission needs to be gained from supermarkets or any other privately owned site in order to collect. Our volunteer fundraisers do not partake in house
to house collections.
Celebration giving
Are you having a special birthday party or anniversary this year? Make your day extra special by raising funds for our faithful friends. Contact our Fundraising team to request collection boxes and gift envelopes today.
Weddings favours
Support our work to help dogs on your special day with our unique wedding favours. As you choose your menu, table decorations and colour schemes, go one step further to personalise your day by choosing to make a donation to us on behalf of all of your guests.
Top tips for fundraising sustainably
We're encouraging all of our supporters to fundraise with us in the most sustainable way possible so we can protect our planet for humans and animals alike.
Recycling. Ensure that there is a recycling option at your event and that it is accessible and clearly labelled with what can - and can't be, recycled. Try to only use items at your event you know can be recycled, and encourage all to clean the items before they pop them in the recycling bin.

Plastic-free. We know that plastic is bad for the environment, particularly for animals. We are striving to eliminate any single-use plastics from our events, such as straws, water bottles and cutlery in favour of recyclable items.

Paper-free. Use digital for invitations, handouts and tickets instead of printed ones.

Make it reusable and don't laminate it. Opt for unlaminated signage as laminated paper can't be recycled. Make signage generic so it can be used time and time again for future events.

Ask the venue for their sustainability info. Using an external venue may mean some sustainability practices will be out of your control, but you can ask them about their own sustainability practices around recycling, plastic usage, energy usage (do they use renewable energy to power the venue?) and their food waste policy before working with them.

Food/beverage. Meat consumption is one of the biggest drivers of the climate crisis, so we recommend that all events are vegetarian, or vegan. This also makes an event more inclusive for those who have a meat-free diet.

Source locally. Try to source locally organic-grown produced food and drink and reduce food waste from the event. Think about what you would do with any leftover food – can it be donated to a local homeless shelter or food bank?

Transport. Encourage people to use public transport where possible. If you think many will drive to your event, can you encourage a car-sharing service?

Incentives for going green. Reward your guests for green initiatives. Those who car share can get priority parking, or a free raffle ticket for everyone using public transport.
Fundraising guidelines 
Before you start raising money for us, please think about the following…
The legal bit…
Permission
If you are organising a doggy event in a public place, make sure the venue is dog friendly and you have permission.
Street collections and collection boxes
If you collect money in public, you must get approval from your council. Street collections require a licence from the council who will also give you guidelines
to follow – it's always best to do this in advance as they are popular!
To collect on private land e.g. in a supermarket or shop, you must get permission from the owner/manager. We do not allow door-to-door collections.
Please note: if you're collecting in public, you must get a badge to show you're collecting for Dogs Trust; contact us to get one (if you've requested a collection box to sit on the counter in your shop or pub for example, a badge isn't necessary).
We do not pick up collection boxes – it is the collector's responsibility to empty and send the proceeds to us (please make cheques payable to Dogs Trust).
Alcohol
You need a licence if you have alcohol at your event. It's easier to hold your event on licensed premises i.e. in a local pub or by asking a local pub to organise a bar at your venue.
Food
If you're selling food or it is available please consider safety laws; to be sure, contact the Food Standard Agency.
Dogs Trust branding
If you're using our logo and charity numbers you must contact the Community Fundraising Team for guidelines and approval. We can also provide you with our special 'Raising money In support of Dogs Trust' logo for you to use on your materials.
Stay safe!
It is important to make sure everyone at your event, including spectators, stays safe while having fun. Consider first aid requirements for both humans and dogs.
Dogs Trust cannot accept responsibility for accidents, so make sure your event is safe for everyone involved. If you are going to be carrying money around take care – always use a safe route and always have someone with you and/or carry a personal alarm.
For more information on health and safety please email our Fundraising team.
Insurance
Ensure your venue has sufficient insurance to cover your event. If you organise an event that involves the public, you will need to ensure you have adequate public liability insurance.
Check if you have a company policy covering you for such activities. Unfortunately as a charity, we're not able to provide liability insurance for events.
All poop must be scooped!
Be a responsible dog owner and ensure you come prepared with poo bags. You can order some here if you want to show off with branded Dogs Trust yellow poo bags!
Keep your fundraising legal
Fundraising is controlled by law and regulation. You as a fundraiser and Dogs Trust can be fined for breaking the rules, so if you're not sure, please do get in touch with us.
Phew, now the fun bit!
Advice
Remember our Fundraising team is on hand to give advice and help.
People
Get a team together of friends and family to help out and support you and make sure everyone knows what they are doing. The more people involved, the more fun the day will be!
Publicity
Word of mouth is an excellent form of free advertising, so be sure to tell all your friends. You could use social media channels and WhatsApp groups to spread the news.
Get in touch
Is your event press worthy or of special interest? Tell us in advance and we might be able to help you promote your event.
Entertainment
When two or more people are performing it is best to check with your local council to see if you need a Public Entertainment Licence.
Online fundraising
Set up a JustGiving page for your event to collect sponsorship and send the link to everyone you know – a simple, secure and effective way to collect donations online. Personalise it with photos and updates about your event and your friends, family
and contacts all over the world can add their encouragement as well.
Why set up an online fundraising page?
It's easy for people to sponsor you straightaway by credit or debit card, instead of sponsors saying they will and then forgetting!
You don't have to chase anyone up for money.
Gift Aid is automatically added, collecting a 25 per cent bonus with no extra cost or effort from you or your sponsor if they are a tax payer.
It's secure, with all sponsorship money sent to Dogs Trust immediately after being donated on JustGiving.
To set up your page please visit JustGiving and follow the links. It only takes a few minutes!
If you've raised money offline, please send your sponsorship to:

Freepost RTJA-SRXG-AZUK,
Dogs Trust, Clarissa Baldwin House,
17 Wakley Street, London, EC1V 7RQ
(cheques payable to Dogs Trust)
If you have any questions about anything, please do not hesitate to contact the Community Fundraising Team.
Contact our fundraising team
Questions? Get in touch with the team
Request a free fundraising pack
Set up your fundraising page
Once you've secured your place in your chosen running event, we recommend setting up your fundraising page on JustGiving. Creating an online sponsorship page with JustGiving makes it easy for sponsors to support you online and all donations will come directly to Dogs Trust, so you don't have to worry about collecting donations or transferring any funds over.

It's super simple to get started, just click the button below to visit our JustGiving fundraising page and select the 'Fundraise for us' option. Thank you so much for fundraising for all the dogs in our care, we are so grateful for all your support!

Related articles

Fundraising
Fundraising ideas