Dog Friendly Workplaces
Discover how to make your workplace dog-friendly.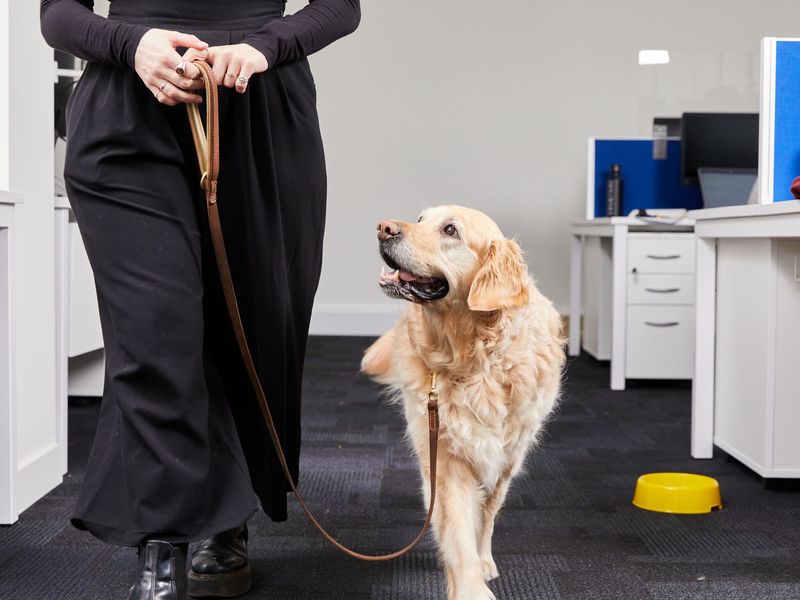 Whether you're starting to think about making your workplace a brilliant place to be for dogs and their owners, or are wondering how to support your staff who work from home with their dogs, our Dog Friendly Workplaces programme is for you.
Dog Friendly Workplaces are needed now more than ever
Britain saw a 24% rise in dog ownership during the pandemic, with many new owners under 35. Our National Dog Survey, which had more than 350,000 respondents, revealed that over a third were working from home at the time, and more than 55,000 said that they would like to take their dog to work with them, but their employers wouldn't allow them to do so.
By making your workplace dog-friendly, you can help keep families together and reduce the number of dog owners who may be forced to make the heartbreaking decision to give up their dogs because they can't look after them during the working day.
We're here to support you
Our Dog Friendly Workplaces programme helps companies to support not only their dog-owning employees, but also their clients, customers, and other visitors by creating a dog-welcoming and happy environment for all so they can bring their canine companions into their place of business.
From offices to retail spaces, we're working with some of the most forward-thinking employers - and you could be part of it too.
It's great to be able to support our members with this helpful programme of information, some of whom really value the flexibility of bringing their dog to work. "Our pet policy also makes sure everybody feels comfortable in our spaces, and we find that welcoming dogs can boost the overall well-being and experience of our members and can even facilitate more social interactions within our community.
Jennie Becker
Director of Events & Activations, WeWork UK & Ireland
What are you waiting for?
Sign up to our Dog Friendly Workplaces programme today, and become an employer that's fit for the future.
Drop us an email today and our friendly team will be in touch soon!
Related articles

Outside the home
Bringing your dog to work: top tips and advice

Are you ready for a dog
Getting a dog when working full time

Training at home
Helping your dog get used to s...