Our rehoming policy
Our rehoming policy explained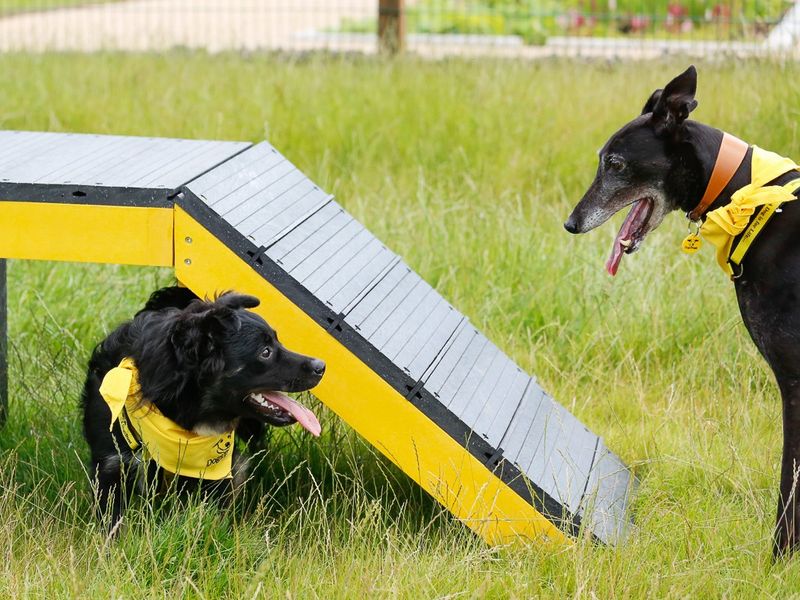 Every dog, person, family or home is different to one another – that's what makes us unique and special!
Our promise to you
We assess our dogs to match them as soon as we can to the best possible forever home and we'll discuss everything we've learned about their behaviour with potential adopters. It can take a little longer for some adopters to find the right dog for them, but please be assured we'll do everything we can to help.
We will never put a healthy dog down; they'll stay with us until they find their forever home.
Matching dogs with adopters
As soon as a dog arrives at one of our centres, our dedicated team of specialists will start their assessment right away.
Each dog will receive a thorough health check when they arrive, and again before they go to their new home – we're nothing if not thorough!
From first-time dog owners right through to experienced pooch parents, we welcome all rehoming applications, no matter what.

Our hard and fast rules
A note on training - we don't use any aversive methods to train our dogs (for example – an 'anti-bark' or shock collar) and will not rehome to those who wish to use them once their dog is home.
There are many other dog-friendly training methods you can use to help your pup learn the do's and don'ts! We have lots of help and advice on hand to help you both through post adoption support and at our Dog School classes.
There are a few things we have hard lines on because we don't think they are in the best interests of the dog.
We won't rehome dogs to live in an outdoor only environment - unless it's in the welfare interests of that dog to do so. And no dog is to be chained or tethered.
We won't rehome an unvaccinated dog to a household with an existing unvaccinated dog and no unneutered dog will be rehomed to a household with an existing unneutered dog.
We also won't rehome to any person, or a household containing a person, who has an unspent conviction for offences relating to animals.

Steps to rehoming
If you and the dog are a match, we may come over for a home visit (with your permission, of course!) for our first-time dog owners or for dogs with more specific needs. For other adopters, we'll ask to see a reference from your vet.
If all goes well, we'll sign ownership of the dog over to you. Rest assured, a full veterinary history for your new life partner will be provided when you come to collect them. For those dogs undergoing training or rehabilitation, we'll give you plenty of information to help you and your new dog build a positive bond.
You'll also be given a starter pack that'll include a lead and some food to kick start your journey together.
We promote neutering as the most effective method of humanely controlling the dog population and reduce the risk of disease. Where a dog goes home with you unneutered, we'll provide you with a voucher or book your dog in for the procedure with us. All our dogs will be vaccinated and microchipped, and should you need behavioural support, our qualified behaviourists will be on hand to help at any point. Don't worry, we've got your back.
Once your new dog has settled in, we'll be in touch regularly to see how things are going. Any problems and we can help with specialist behavioural advice. If needed we can arrange a consultation with a behaviourist to help with you with specific issues.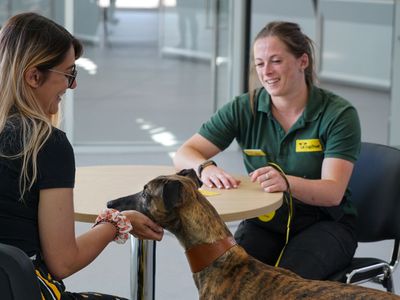 Everything you need to know about adopting a dog from us.
What we ask from you
Obtain landlord permission before reserving a dog.
To be age 18 years or over.
To attend a pre-adoption talk.
If the new home doesn't have a garden, the dog is to have regular opportunity to go for toilet breaks.
Puppies adopted from us to attend our Dog School.
Adult and adolescent dogs selected as suitable for Dog school classes are advised to attend at a reduced rate of £55.00.
Dogs are not to be left alone for longer than they can cope with (mentally or physically).
Dogs have access to a suitable outside space for exercise and toilet breaks.
The adopter chooses the dog themselves; we will not adopt dogs to be gifts.
Understand and agree to continue with any behavioural rehabilitation or training recommended for the dog.
We hope and believe that this will work out for you both. As part of T&Cs, we ask that if you start to struggle, please don't hesitate to get back in touch. We provide lifetime behavioural support for all our dogs and we may be able to help. We will always take your dog back into our care if that's best.
Related articles

About us
Our non-destruction and intake...