Dog School
Expert advice and practical training to help you and your pooch understand each other better. We offer 4 week courses specifically catered to puppies, adolescents or adult dogs.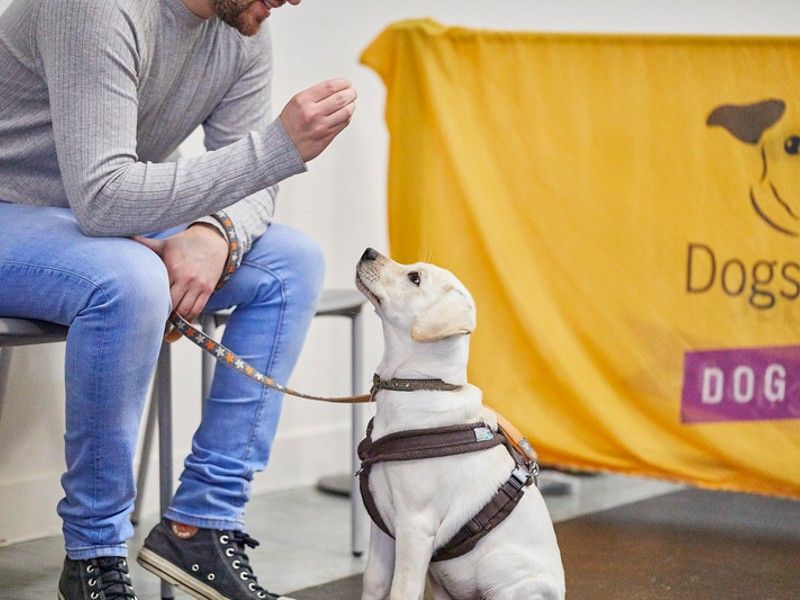 In-person and virtual training courses for just £65
In four fun weekly classes you'll learn how to:
Improve your dog's recall.
Train your dog to walk nicely on a lead.
Communicate effectively with your dog.
Overcome chewing and mouthing.
Toilet train your puppy.
Our puppy and dog training courses are tailored to your dog's age group to best meet your needs.
View the class plan
If you're looking for more information about what you could expect for our dog schools, take a look below:
Alternative class options
Our regular classes might not be the best option for everyone, here are some more ways we can help:
We realise there are owners who need training or behaviour support for their dogs, but who are unable to afford the costs associated with these services. If you are looking for help with your dog's training or behaviour, and need some financial assistance, please apply for our discounted classes.
Our approach
At Dogs Trust we train dogs using reward based methods, and do not advocate the use of any training equipment which changes behaviour by causing pain or fear in dogs.
Dogs which are trained with rewards enjoy learning - they are a partner in the training sessions and often 'offer' new behaviours to see if they get a reward.
Reward based training works to change behaviour and enhances the bond between dog and owner.
We also make sure you get the support and resources you need to help you in our classes and beyond. These courses include access to our owner support hub to enable a strong start to your training.
Terms and conditions - pdf
We LOVED this experience! Our teacher was really encouraging and patient with all our questions.  
Olaitan
Coconut's human
THANK YOU for an amazing course. We both enjoying it so much and I learned a ton. 
Rafaella
Josie's human