Enrichment activities to keep your dog entertained
It's important to provide your dog with enrichment. Find out exactly what it is and the various activities.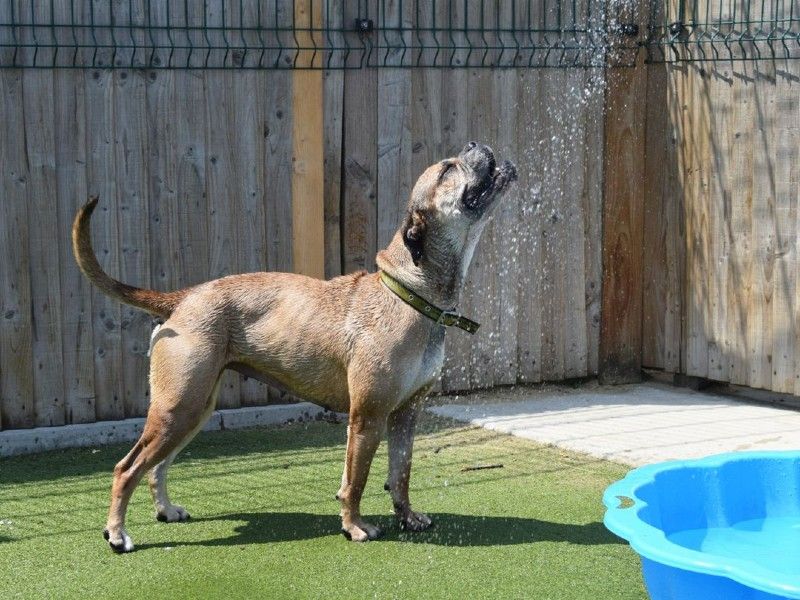 Dogs are social, intelligent and active animals. So, it's important to provide them with safe and suitable opportunities to exercise their bodies and minds, during every stage of life.
This is where enrichment comes in – but what is it?
Enrichment enables dogs to explore and use their natural instincts. Enrichment activities can prevent boredom, build confidence, and teach a variety of skills such as problem-solving, searching and agility. It allows them to sniff and chew appropriately. Plus, it's the ideal way to manage their energy, encouraging calmer behaviour and helping them to learn good habits.
Enrichment should be provided daily and can be used throughout the day. If your pup gets over excited, you can get out the snuffle mat. Alternatively, if you want to keep them occupied while you are having dinner, give your dog an enrichment toy with some of their food inside. This will help to keep them safe and prevent them from chewing on things they shouldn't – such as your favourite pair of slippers!
Enrichment also helps to prevent mouthing. While it is normal for puppies to do this, you need to help them learn what is appropriate for them to chew on.
Choosing the best enrichment for your dog
When planning and choosing enrichment, it's important to:
ensure any enrichment is safe and suitable (non-toxic and appropriately sized. Plus, no foreign body hazards which could result in trauma to the mouth, throat or gastrointestinal tract)
consider the individual dog, including their health, abilities and dietary needs
think about their preferences – what do they like and dislike
watch how they interact with the enrichment. Ask yourself, 'Are they engaged? Do they seem to be enjoying it? Do they seem confused or frustrated? What can I change next time? If it's too difficult or I see signs of frustration, how can I make it easier?'
Enrichment activities for dogs
So, you know what you need to think about when choosing the best enrichment to offer your dog. Now here's some enrichment ideas that you might like to consider. While you may find their favourite, don't forget it's good to mix it up and offer them a variety of activities.
Food-based enrichment
From their dinner to treats, eating food is likely to be one of the best parts of your dog's day. This is why a food game with an enrichment toy is perfect for them and something that most will really enjoy.
There are several options. You could spread food on the textured surface of a 'lick mat' for your dog to enjoy calmly. Alternatively, you could get them a puzzle feeder. How about a rubber one that you pre-fill and chill to make it last longer?
Of course, you don't have to buy one. You could make the most of your recycling (if it's safe for dogs to use), get creative and make your own. A dig box is a simple but effective way to create enrichment from newspaper and a cardboard box. Simply scrunch the paper up, pop it inside the box and hide kibble within it. You could also put kibble inside toilet roll.
Why not make a snuffle mat? Or how about using a yoga mat that they can unroll to discover hidden kibble?
If you're not feeling crafty, simply scatter food either inside or in the garden and let your dog hunt for it. You could also lay a treat trail for pup to follow with their nose. Why not create a shape or spell out their name?

Top tip: Make sure you supervise your pooch, just in case they need help. This is particularly important with any homemade food enrichment activities. Remember, you need to be careful that your dog isn't gaining too much weight from regular food-based enrichment. If they are having this during the day take it out of their evening meal. You can always split their food allowance into portions and use in different ways throughout the day.
Of course, while they love eating the food, the smell is also enjoyable to them. So, they will love using their nose to sniff out that tasty treat too…
Scent-based enrichment
Smell is very important to our dogs. Sniffing is a natural behaviour and is a key way our dogs gain information about their environment.
On walks, allow your dog plenty of opportunity and time to sniff. Make sure you go to different places and mix up the route that you take. This will give them new experiences and of course, new smells.
Back at home, you could buy dog-safe plants and herbs for them to smell. Some plants are toxic to dogs, so be very careful to avoid these.
You could also swap treats for toys and hide their favourite one for them to sniff out.
Games with toys
Playing games with toys is beneficial to your pup physically as well as mentally. It also helps to build their confidence and will help to strengthen the bond between the two of you.
Here's our top tips when playing games with toys:
Tip one: Rotate your dog's toys weekly. This will keep them excited and interested in them.
Tip two: Let your pup win games. Your dog will enjoy it if you take it in turns and both win a few games each.
Tip three: Your dog may rip soft toys up – this is natural behaviour. Just make sure you are always supervising when they are playing with these toys. You don't want them to swallow any small parts. If you do need to take away a part of the toy, swap this for a treat or two. Find out more about fair trade swaps.
Tip four: Dogs will naturally hold, tug and shake toys with their mouths. If you feel their teeth on you, stay calm, still and quiet to end the game. Then, calmly move away, if necessary. Take a short break and continue playing so they learn that the fun continues when their teeth stay on the toy.
Environmental enrichment
Make sure your dog is getting to visit and explore brand new places. Most dogs will find experiencing a range of environments enjoyable and it will be incredibly beneficial too. That is because the different sights, sounds and smells will stimulate their senses.
Give them the opportunity to walk on different surfaces, smell and even taste (as long as they are safe and dog-friendly, of course) new things.
Consider the type of places your dog seems to enjoy the most. Perhaps it is the woods or at a dog-friendly beach?
Top tip: it's important to provide access to fresh water. You should also prevent your dog from drinking salt water, which can cause severe illness in dogs, and sometimes even be fatal.
Speaking of the beach, water can be great fun for your pooch – as long as it is safe and suitable for your dog, and they feel comfortable in it. You could always start off with a shallow paddling pool in the garden. This will give them a new experience and is great for playtime. Plus, it's the ideal way to cool off on a hot summer's day.
Need to know: Just make sure they're always enjoying themselves. If they ever show any sign of becoming worried by something they see, hear or smell, calmly lead them away. You should also ensure that your pup is comfortable travelling in the car before heading off for an adventure in a new place.
While it's important to take pup on new routes and to experience different places, you can make the most of their regular walks by making them interactive. As well as stretching their legs and having a sniff you could include activities such as:
playing with toys
throw or scatter their food / treats for them to search for
practise tricks in the park
lay a treat trail for them to follow
encourage them to place their paws on objects (provided it's safe for them to do so) …
… or get them to walk along fallen trees (just make sure they don't fall or lose balance.)
These are all exciting ways to liven up a walk and will leave both you and your pooch feeling happily exhausted afterwards.
Top tip: Ensure your dog is up to date with flea, worm, tick and lungworm prevention. Also, make sure to have a chat with your vet about their exercise requirements. Remember, this can change throughout their life and in the event of illness or injury. Don't worry, even if they can't go on long walks, you can still make a short stroll fun for them.
Enrichment through choice
Enrichment can also be provided by simply giving your dog choices when it comes to their personal surroundings. Does your dog have a lovely big cosy bed but chooses to sleep on the rug? Then let them. Being able to make these choices for themselves will enrich their lives and help them to build confidence.
Top tip: Make sure you are only giving your dog choices when it is safe and appropriate to do so.
Training
The mental exercise of training can be just as tiring as physical exercise for our dogs. So, teach your dog new tricks using reward-based training. Not only will they learn new skills, but it will also help improve your relationship and boost their confidence.
You could teach your dog to:
give you their paw, one at a time (or high five)
do a figure of eight
tidy up their toys
put their paws up
run through a tunnel.
As well as teaching your pup tricks, you can also do other basic training including teaching them useful life skills. This could be fun loose-lead walking with puppies before they can go outside. You can also teach them to settle and do recall training. As well as providing enrichment this will also help with future situations.
Don't forget: As important as it is to provide enrichment for your dog, it's equally as important that you incorporate time to rest into their daily routine – especially while they are still a puppy.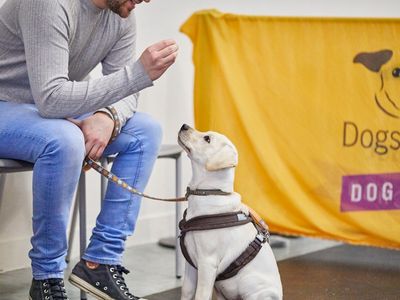 Expert advice and practical training to help you and your pooch understand each other better. We offer 4 week courses specifically catered to puppies, adolescents or adult dogs.
Related articles

Understanding your dog
How to make your dog happy

Recipes and enrichment
How to make a snuffle mat for your dog

Recipes and enrichment
How to make a dig box and othe...