How to keep your dog safe and warm in cold weather
Our safety tips will ensure you and your dog will be happy while walking in a winter wonderland.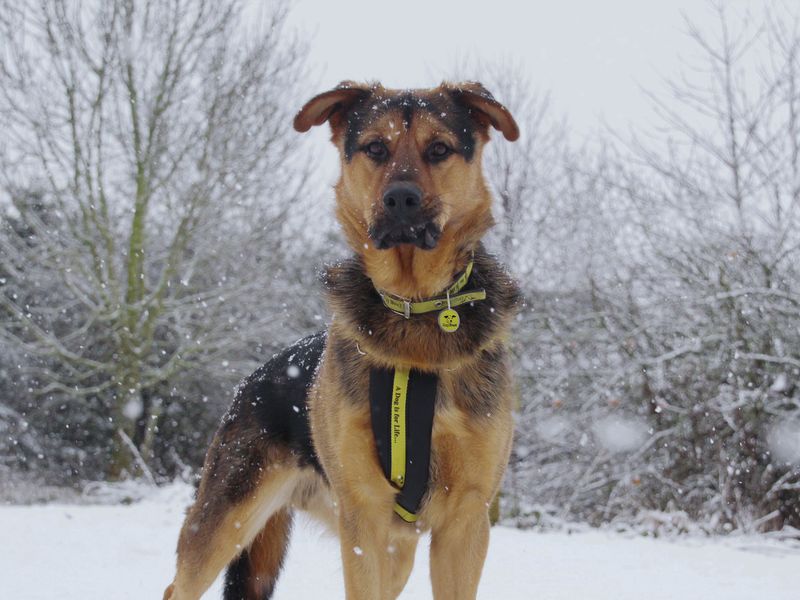 When the temperature drops, it's important to take extra care of our four-legged friends. Here are our top tips to keep our puppy pals safe and warm on wintery walks.
Keep your dog warm and cosy
Some dogs grow thick furry coats all year round, so as the weather gets colder, consider letting your dog's fur grow longer to give them added protection. Some shorter-haired breeds and puppies may need a little bit of help staying warm and so would need to wear a coat in colder weather.
If you're walking in the dark, it's important to make sure your dog is visible to other dog owners and people in cars, so it's wise to get a coat with high-visibility reflective features or consider a flashing collar or light attachment providing it's suitable for your dog and they're comfortable wearing it.
Wearing a coat or light attachment is a new experience for some dogs and needs to be introduced in a gradual and positive way. This will help your dog enjoy wearing their equipment for winters to come.
Give the miracle of a gift to dogs this Christmas
Top tips for winter walks
Tip one: If it's snowing, keep your dog on a lead
There may be deep patches or holes, or the snow may cover areas that aren't safe. Keep your dog on a lead to protect and prevent them from falling and hurting themselves.
Tip two: Make sure your dog is wearing a collar and an ID tag and is microchipped
It's important to ensure your microchipping database is up to date with your address and contact details.
Tip three: Wipe after walkies
Make sure you wipe your dog's legs, feet and stomach after a walk, as grit from the roads and dampness from rain or snow can irritate their skin.
Tip four: Never leave your dog in the car 
Whether it's a hot or cold day outside, leaving your dog in a car is very dangerous and should never be an option.
Tip five: Don't let your dog walk on frozen ponds 
The ice may not be thick enough to take their weight. If your dog does fall through the ice never be tempted to go in after them. If possible, encourage them to swim back to you and call the emergency services.
Tip six: Avoid antifreeze
Antifreeze is highly poisonous but tasty to dogs. Make sure you always keep antifreeze and other chemicals well out of reach and be sure to quickly mop up any spills.
Tip seven: Safety first 
Your own safety is important too. Make sure that you are dressed appropriately for the weather with a suitable coat and shoes. Make sure you're as visible as your dog is.
Tip eight: Regularly check your dog's leads, collars and harnesses  
Make sure they're all functioning safely and won't get damaged by winter weather, as wet weather can cause metal clips to rust.
It can be trickier to do up lead clips and carabiners and attach them to collars and harnesses when it's cold, so do this indoors if you …
Keeping your dog active during winter 
It can be difficult to keep dogs physically exercised during dark evenings, especially when public parks are closed at dusk. Here are some ways you can keep walks fun and your dog active, even if the weather is wet and cold.
Change up your walkies route
When parks are closed you can give your dog lots of entertainment by walking different street routes to your normal ones, so they can experience new sights, sounds and smells.
Try doggy barkour
Incorporate some little training sessions within your walks to liven them up. Take treats with you and reward your dog for doing a trick on each street you walk down. You could also lay treat trails for them to sniff out and follow.
Or why not create doggy-parkour (barkour) using treats to guide them to circle street furniture such as benches and lampposts? You can do all these on-lead so they're always safe.
Play games indoors
Indoor games like hide and seek, or 'find it', are fun and mentally stimulating for your dog. Hide a toy for them to search for and play with them as a reward when they find them.
Provide extra enrichment
You might be spending more time indoors if the weather's very bad, so always make sure your dog has plenty to do.
Long-lasting tasty chews, or rubber food-releasing toys and enrichment games are useful for giving your dog something enjoyable to do that is mentally stimulating.
Back to school
Treat your dog to some fun and games that are also educational and useful. We offer short training courses for puppies, adolescents and adult dogs, teaching important skills in a fun and positive environment. Enrol in a Dog School training course!
Related articles

Life with your dog
Recipes and enrichment

Dog advice
Life with your dog

Training
Extra training and tricks