How to plan a dog-friendly wedding
Help your dog feel happy and comfortable on your special day.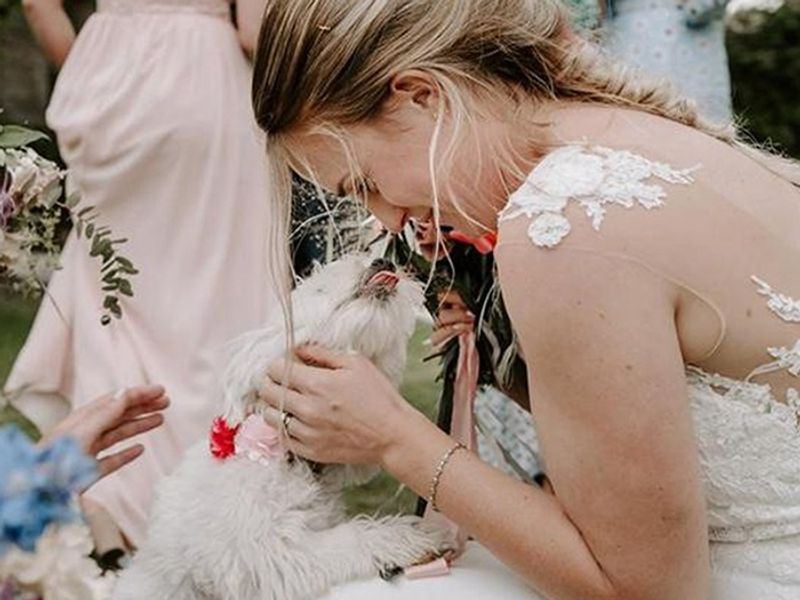 Dogs are our best friends (and often, favourite family members!) so it's no surprise many owners dream of having them at their weddings, bearing the rings or even trotting down the aisle at their side. If you're considering delegating maid of honour duties to your dog, read through the following advice to make sure your dog enjoys your big day as much as you do.

Look at the day from your dog's point of view
A good wedding is all about planning, so grab a notepad and pen and start working through your big day – from your dog's perspective.
Map out the key events and think about how your dog responds to similar situations. You'll be able to identify key moments when your dog will be living their best life (during the limbo, probably) and when they might need some extra puppy love or a quiet time out.
By identifying these situations, you can plan ways to help your dog to join in and have fun. For example, some dogs enjoy meeting new people, while others might be a little shy and overwhelmed.
You may also want to consider things like the venue's flooring, which could be slippery or scary for some dogs – and we don't want anything to stop your pooch from throwing a shape or two.
Make them a cosy den at the venue where they can relax, undisturbed
Sometimes, we all need to take a little time out from the party – and your dog is no different. Bringing your pooch's bed, along with their favourite toy, can help them to settle and relax in unusual and exciting situations.
We also recommend a non-spill water bowl, so you can be confident they'll have water available at all times (which is especially important if you've elected them to be designated driver).
Have people your dog knows and trusts on hand to help look after them
In a perfect world, our pooch would never leave our side. But weddings are a hectic whirlwind of catching up with distant relatives, posing for photos and listening to countless toasts about your 'wild youth'.
As dog parents, it's helpful for someone your pooch has a good relationship with to takeover 'doggy duty' for some or all of the day.
It's a good idea for the designated dog-sitter to spend some quality time with your dog beforehand, getting to know them so they can recognise if they are feeling uncomfortable or over-excited.
Prepare your dog in advance
Train hard, play hard. There are some key behaviours to teach your dog to help them enjoy themselves, no matter the occasion.
Learning not to beg or steal food, knowing how to settle, and how to greet new people with the right petiquette are important skills for life. Teaching your dog these simple things will help avoid stress for you both on the big day.
It's also important to remember that some dogs may not be comfortable being part of your wedding at all. As sad as you may find this (we know you promised to have and to hold their paw!) your dog will appreciate you putting their feelings first.
Don't worry, you can still get crafty and involve them in other ways, such as using pictures of them for your table centrepieces – the pawfect touch to a beautiful day.
Practice makes perfect - so include some dog training in your wedding planning!
Before your big day, it's a good idea to get a bit of training in with your pooch. Whether your dog is an excitable pup easily mistaken for a pogo stick, or a grumpy geezer who's got a little complacent in their old age, our website has lots of dog training tutorial videos for everyone.
If you want to go one step further, you may also wish to enrol at our Dog School, which now includes virtual classes. Teaching your dog how to behave around food is particularly important, as many wedding cakes include fruit or chocolate which are poisonous to dogs.
Special occasions also often have lots of flowers and bouquets, which can be toxic.
Be mindful that your dog might get increasingly excited or overwhelmed during the day...
Be aware of 'situation-stacking'.
Situation-stacking is where short-lived and separate situations happen in quick succession. For your pooch, all the feelings of excitement or worry stack up until they are completely overwhelmed and unable to relax.
With the continuous excitement of a wedding day, it's easy to see how your pooch may experience this. It's important to factor in short breaks away from the action and to make sure your dog has a chance to unwind.
This may involve taking time out with your designated dog-sitter, or perhaps going on a few walks to escape the celebrations.