Creating a safe space for your dog
All dogs need a safe space of their own. Find out what makes a good safe space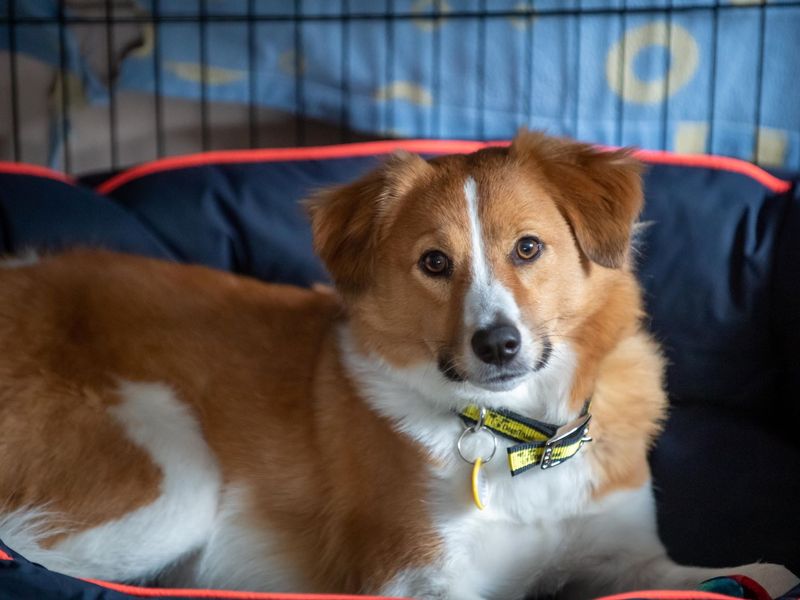 All dogs need a safe space of their own where they can go and relax, knowing they won't be disturbed. During fireworks, this is especially important. If a dog hears a noise that frightens them, they can retreat to their space to feel safe. Here's how to make your dog's safe spot extra cosy and comforting for fireworks season.
Give your dog a safe space 
Find the perfect location
Most dogs will have a few favourite spaces around the house. This could be their bed or crate, their favourite spot on the sofa, or the room they like most. Turn your dog's favourite spot into their designated safe space. You could add a comfy bed or blankets to their favourite nook, perhaps by the side of the sofa or under a certain table, to make it a safe and snug haven for them. 
If your dog doesn't have a favourite spot already, choose somewhere in a room your dog normally spends time in, where they naturally like to rest. Make a cosy den for them and build up positive associations with the space. Do this well in advance of fireworks, so they become familiar with it being a safe place.
Make it extra cosy
Many dogs will feel safer if they're quite snug in a space, so consider adding extra blankets to make it a cosy spot to squeeze into. If possible, soundproof the area, perhaps with extra blankets over a crate. This will help give your dog a sense of security.

Offer your dog games and treats
Build up positive associations with the space by offering your dog things they enjoy in there, like long-lasting chews, puzzle feeders and their favourite toys.

Tell everyone about your dog's safe space
Make sure all family members, especially children, know where your dog's den is, and to leave them alone when they're in it. Ask visitors not to disturb your dog when they're in this spot.
If your dog shows signs of being scared of fireworks, talk to your vet as soon as possible. They can check if there are any medical problems contributing to your dog's fear of noises. Your vet can also refer you to an accredited behaviourist and suggest whether additional treatments might be helpful. Read our advice on finding a qualified behaviourist.
Related articles

Understanding your dog
Sound therapy and firework training

Understanding your dog
Signs your dog is feeling anxious

Seasonal advice
Celebrations advice