Lily's Kitchen
Lily's Kitchen has raised more than £100,000 since 2020 to support our work. Discover our partnership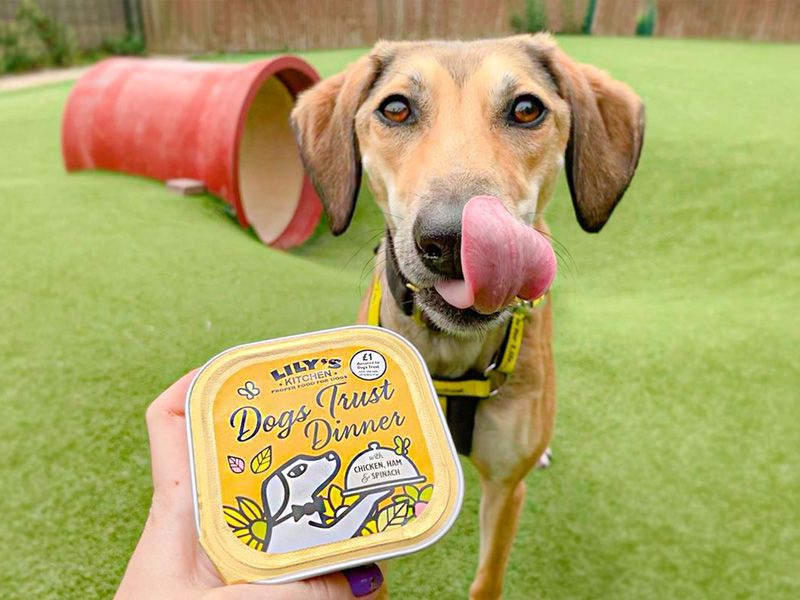 Since November 2020, Lily's Kitchen has raised vital donations through the sale of various products, including their Christmas range, Be My Valentine recipe, Dogs Trust Dinner recipe, and through various fundraising activations.

They have generously donated thousands of treats and wet food to our rehoming centres for our dogs to enjoy while they wait to find their forever homes.
"It's a real privilege to partner with Dogs Trust. The work they do to help pets and pet parents alike is so important and means so much not only to the Lily's Kitchen team but to our customers as well. The Dogs Trust team are a pleasure to work with, always friendly and offering enthusiastic support for campaigns. We're proud to work with a team who has as much of a passion for pets as we do, and who like us, believe that pets are very much part of the family."
Charlotte Henderson
Marketing Manager at Lily's Kitchen
The impact of our partnership
Thanks to the generosity of Lily's Kitchen and the creative ways they've been raising funds, we've received more than £105,000 to support the dogs in our rehoming centres.
They've helped us care for more than 2600 dogs on their first day arriving in our care, making sure they feel comfortable and settled in our care as possible. The thousands of treats that Lily's Kitchen has donated helps us make this happen.
We're so grateful for Lily's Kitchen's ongoing support.

For Christmas this year, Lily's Kitchen are doing something extra special for the dogs in our care.

Our friends at Lily's Kitchen have created a delicious new Christmas range for dogs and will be making a donation from the sale of their Three Bird Feast for dogs sold on their website to help spread festive joy to dogs in need (with the aim of raising £23,750). You can get your paws on their tasty Three Bird Feast:

How our partnerships help us
Related articles

Vet care at home
Diet and nutrition for dogs

Philanthropy and major giving
How your support makes a diffe...