Buying a puppy safely and responsibly
If you are planning to buy a puppy then make sure you get one responsibly with this guide.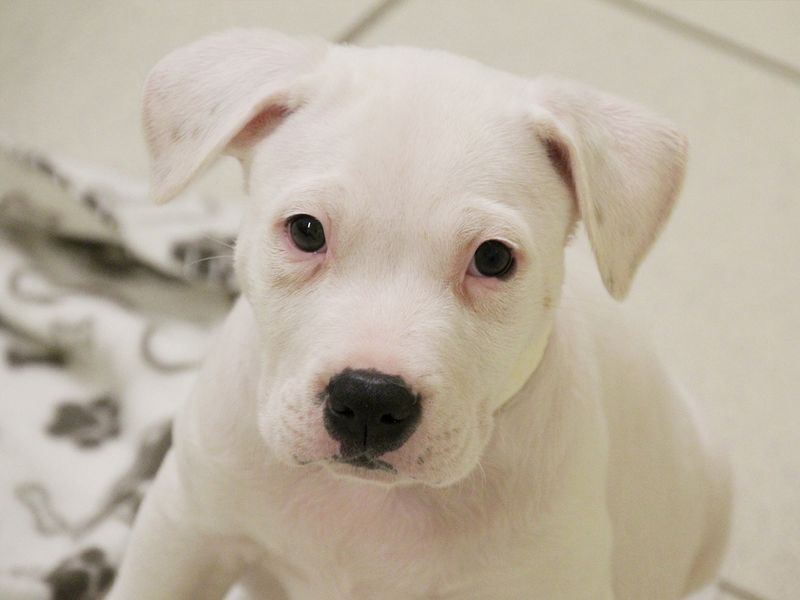 Once you've decided on the perfect puppy for you and found a responsible breeder who puts the health and welfare of the pups first, it's time to plan how you'll buy your puppy safely. This is a crucial stage to ensure you're getting a happy, healthy puppy that's been bred by a trusted breeder, and it's important to recognise any signs of a poorly pup, or red flags about the environment.
Speak to the breeder
Call the breeder first with your questions. The breeder will want to get to know you, as they'll want their puppies to go to a good home, so be prepared to answer their questions too. Be sure to ask about the process, pricing and when you can arrange a visit.

You may want to ask questions such as:
How old the puppies are, and how old they will be when they are ready to be rehomed. They should be at least eight weeks old

Their health, worming and registration status, and see evidence of health screening tests of relevance to the breedchecks

What food they have been eating
Arrange a visit to meet the breeder and pups
Visit the puppies with their mother (and ideally their father) in the breeder's home.
Assess the environment
Pay attention to the environment they're in – it should be clean, warm, dry, quiet, safe and suitable. It should be a large enough area, with easy access to fresh water. Make sure the house feels like a home and not a place rented for the purpose of showing you and other potential buyers around. Unscrupulous breeders and puppy farmers may rent a house to sell puppies from, so if you feel as though something isn't right, report the breeder to Trading Standards.

Assess the dogs
Make sure the puppies look active, healthy and have no signs of illness. They should have clear eyes with no redness or discharge, a clear nose with no discharge, clear breathing with no wheezing or coughing, clean ears with no redness and obvious wax or discharge, healthy-looking skin with no scabs or sores, shiny and soft fur with no evidence of fleas, sturdy legs with no signs of limping, no visible ribs, and a clean and dry bottom.

Healthy puppies are active, curious and interested in the world around them, so should show an interest in you and want to give you a sniff. They should also be comfortable being handled, and the breeder should encourage you to handle the dogs to help you choose which puppy is for you.

Make sure the mother is happy and healthy and is interacting with the puppies. Both mum and pups should be active, alert and interacting with each other, and the mum should seem comfortable with you and other visitors.

Ask about socialisation
The breeder should have already started to socialise the puppies with the everyday sounds and sights of the home, so be sure to clarify this with the breeder.

Check the paperwork
Remember a Kennel Club registration does not guarantee a perfect puppy.

You will need to check:
their health report from a vet, including evidence of their vaccinations and flea and worming treatments
their microchipping documentation - this is a legal requirement for breeders
their insurance details - many breeders will ensure puppies will come with a few weeks of insurance
the health history and certificates of both parents
the Puppy Contract, if you're using one

Take your time and report suspicions
Don't feel pressured to make a snap decision, don't be afraid to walk away. If something is worrying you about the pup's welfare, contact the RSPCA, SSPCA or USPCA. If you suspect the seller is acting suspiciously or the puppy may have been illegally imported, please report them to Trading Standards.
Puppy farmers and puppy smugglers operate in the UK, with no regard for the welfare of the dogs and puppies in their care, as they are only interested in making money, so it's important to recognise the signs and report these criminals before more dogs and puppies are harmed through illegal and cruel breeding practices.

Arrange to collect them
If you're happy with everything and ready to buy your puppy, arrange a date to pick them up and book a vet health check-up within 48 hours of the date.

If you are using a Puppy Contract, you should agree for this to be completed and confirm the paperwork will be ready for you to collect. Then you can begin to get your home ready and start getting excited for their arrival.

Bring your new family member home
Whether you decide to collect your new friend in a car or on public transport, you'll need to make sure you're prepared and are ready to travel safely.

You'll need a pet carrier for a train or bus, or a crate for the car. You might want to make sure you carry water, treats, poo bags and wipes in case there are any accidents along the way. Remember, puppies need to be fully vaccinated before they can mix with other dogs or go in public places, so make sure they go to the toilet before you set off.

Use a Puppy Buying Checklist
The first time you meet your potential puppy, you might be so excited that you forget to ask something. That's to be expected. We can save you the bother of trying to remember it all. Download and print the Puppy Buying Advice checklist and take it with you when you embark on your puppy buying adventure.
Puppy buying checklist - pdf
There are lots of ways you can prepare in advance for your new arrival to make sure that you and your new dog get off to a great start. We're here to help every step of the way from setting up your home to registering with the vets. In fact, we have dedicated advice to get you started with your puppy.


Related articles

Are you ready for a dog
Should I get a dog? 10 questions to ask yourse...

Choosing your dog
How to choose a puppy from a litter

Rehoming
19 questions to ask when adopt...