Dog School 1-2-1 training sessions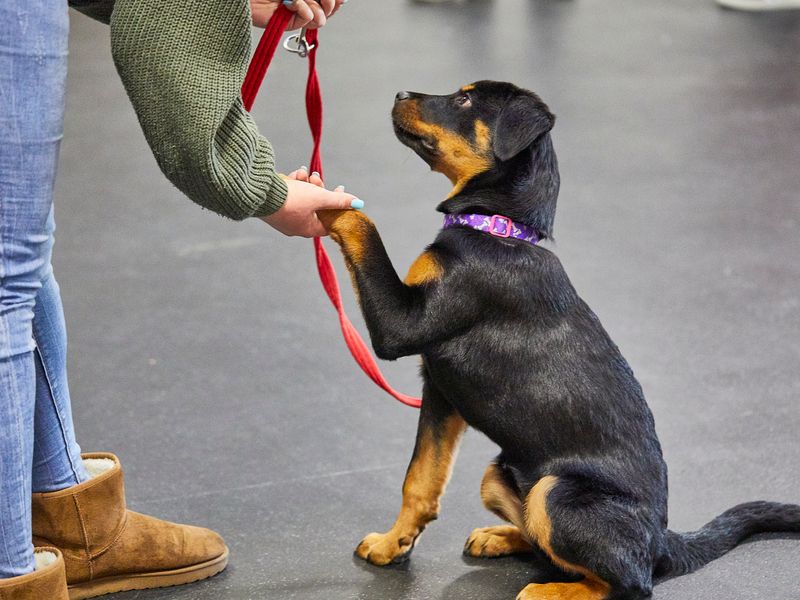 At Dog School, we understand that some dogs are better suited to 1-2-1 training support. This could be due to there being just one or two areas of training that need to be focused on, or it might be that a group class environment would be too stressful or distracting for them.
Our 60-minute training sessions are tailored to your dog's needs and the outcomes you're aiming for and will help you build a strong relationship through understanding your dog better. You will also get access to our owner support hub for as long as you need it.
To book a 1-2-1 training session, find your local Dog School, select 'book now' and fill out an enquiry form. We'll get in touch with you to discuss your dog's needs and arrange an in-person or virtual session.
Some of the common reasons owners contact us for 1-2-1 training support include:
Recall – getting your dog to come back when called
Loose lead walking – how to get your dog to walk nicely on the lead
Jumping up – teaching your dog to keep four paws on the floor
Settle – helping your dog learn how to settle down and relax on their own
Confidence building - aimed at helping the owner recognise the early signs their dog may be uncomfortable or worried and learn to respond appropriately
Muzzle training – to help you train your dog to wear a muzzle.
Our 1-2-1s are run in the following ways:
In-person session at one of our Dog School training venues - £70.00
Virtual session via Zoom - £55.00
Discounted classes
If you're looking for help with your dog's training or behaviour, but you're concerned about the cost, you may be able to apply for our discounted classes.
Support for owners with an American Bully XL type dog
We're offering a 50% discount on our muzzle training 1-2-1s until the 31 December 2023 for anyone who needs to muzzle train their American Bully XL type dog.
We contacted Dogs Trust for some further support with loose lead walking after having attended group classes when our dog Luna was a puppy. We are so glad we did. After just an hour's session with the fabulous trainers, we saw visible progress. The trainers were so friendly and supportive - they really took the time to listen and point us in the right direction with everything we discussed. We wouldn't hesitate to come back and reach out for telephone/ email support if we need it and would recommend it to anyone who is struggling with training issues.
Class Attendee