How to take your puppy for their first walk
Taking your pup for their first stroll is exciting for you both. Here's how to make it a positive experience too.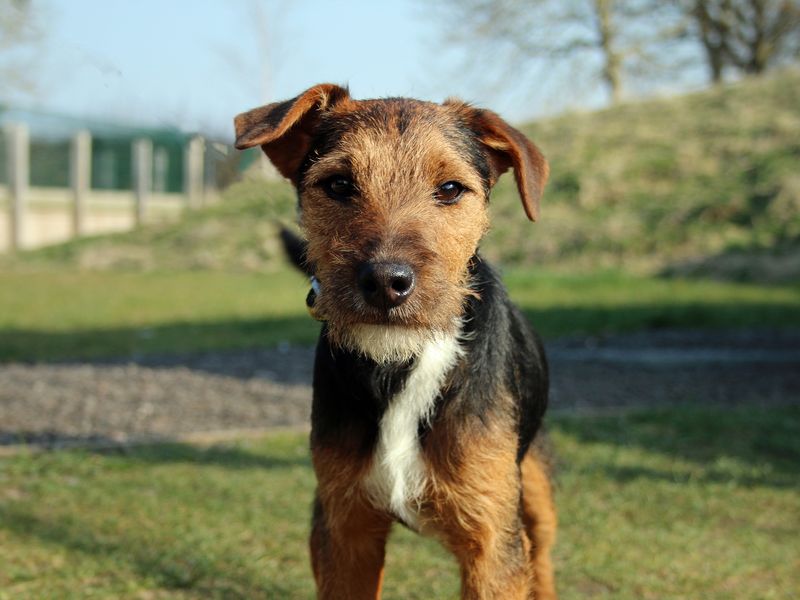 Leaving the house to take your puppy on their first walk will be very exciting, for both of you.
But, you want to ensure it's a positive experience, so that you and your puppy look forward to and enjoy the many walks that will follow. By spending some time preparing at home, you will be ready and know what to do while you are out.
Before your puppy's first walk
Before you pop your puppy's collar and lead on and head outside, you need to ensure they have been fully vaccinated. Don't worry – it won't be long until you and your puppy are out and about exploring together. Plus, there are lots of activities you can do with pup to help prepare them for their first walk. Here's what you need to know.
When can a puppy go for their first walk?
Your puppy can typically go on their first walk one to two weeks after they have completed their primary vaccination course
However, you should check this with your vet as when immunity begins will vary between different types of vaccines.
Always speak to your vet about the most appropriate timing of your puppy's first walk, as well as appropriate places to take your puppy.
Can you walk a puppy after their first jab?
A puppy should not be walked outside if they have only had a single vaccination. This is because they may not be fully protected against serious infectious diseases.
Can I carry my puppy outside before vaccinations?
Yes. You can take your puppy out in a carrier or a secure pram during this time to introduce them to the outside world. But, they should not be allowed to walk on the ground.
How to socialise a puppy before vaccinations
Socialisation with other dogs is important. Your puppy can interact with your other dogs, or a friend's dogs coming to the house, provided these dogs are fully up to date with their vaccines.
Your puppy can also walk outside in the garden after their first vaccination, provided that it is enclosed and not used by other dogs with unknown vaccination status.
But remember, it's important to keep them away from ponds and stagnant water due to the leptospirosis risk. You should also be careful in gardens frequently visited by foxes, as it can also be spread in their urine.
Find out more about when and how to socialise your puppy
Preparing your puppy for their first walk
Introduce them to their collar and harness, so they are comfortable wearing them
When introducing your pup to their collar, harness and lead, make sure you go at a pace they are comfortable with, so they feel relaxed at every stage. Start slowly and introduce them to their collar and harness by breaking it down into small steps. Once they are …
Practise walking on a lead (around your garden or even in the house)
Being on a lead can be a strange and new experience for your puppy so we need to help them understand that it is a safe and positive thing. Start by teaching your dog that being close to you is a good thing by rewarding them for standing or sitting by your side. Gradually …
Teach your puppy to come back when called
Starting to teach your puppy to come back when called at home is a great way to set them up for success on their walks.
By working on recall training you can be confident they will always come back when you call them. Before you let your puppy loose, teach them …
Tips for walking a puppy for the first time
Once your puppy has completed their primary course of vaccinations, and their vet has given the go ahead for their first walk, you can start showing them that the great outdoors is a safe and fun place to be. Just make sure your puppy is microchipped, with your up-to-date contact details on the database, before you head off.
What to take on your puppy's first walk
Before your puppy's first walk, make sure they are wearing:
a well-fitted collar
id tag (with up-to-date details – including your name and address with postcode)
lead, or...
a well-fitted fixed harness (it's a legal requirement for them to still wear the collar / tag).
You'll also need to take:
treats
poo bags
water and a portable bowl or a dog water bottle.
Don't forget to dress appropriately yourself. From a comfortable pair of shoes to an anorak in the rain, the right clothing will make the walk much more enjoyable for you too.
Need to know: You can take a longer lead, such as a soft longline. However, you don't want to take this on their first few walks as you want your puppy to get used to their regular lead and walking alongside you. But, when you do, this will give your dog more freedom to explore. Longlines should be attached to harnesses rather than collars.
Top tip: Make sure your dog is up to date with their flea, tick and worming treatment before mixing with other dogs and before going on their first walk.
Make sure it is a positive experience
Your puppy is likely to be very excitable when they go out for the first time.
The only aim on their very first walk is to ensure that it is a positive experience that helps to build their confidence. You want to make sure that they enjoy the outside and exploring. So, don't worry if your dog doesn't walk calmly on the lead the first time. There are lots of new sights, sounds and smells to for them to take in, so this will take time and practice.
Even if you have started recall training, ensure to keep them on their lead for their first few walks.
Top tip: Remember to keep practising your training in between walks too. Short and fun training sessions at home will help your puppy learn.
Let them stop and sniff
Make sure you let your puppy sniff whenever they want to or simply stop and take in what is going on around them. Allow them to take their time and don't pressure them to move on. They are learning, discovering and exploring the world around them. Letting them do this will help to build their confidence. It will also make the walk much more enjoyable for them.
Take treats to reward them
Bring plenty of your dog's favourite treats with you. On this first walk they can be used to encourage positive behaviours.
Later you can start to reward your dog for walking on a loose lead, paying you attention or coming back to you.
You can also use treats to play fun games such as laying a treat trail for your dog to follow. Or throw treats out to either side of you for your dog to chase, find and enjoy – which you can do safely on-lead.
Need to know: your puppy will have a lot of treats while you are training them. This is a great way to make sure it is a positive experience and will reinforce the behaviours. However, it's important to make sure you reduce meal sizes to compensate for the large volume of treats.
Keep the first walk short and sweet
You want to make sure the first walk is fairly short but check with your vet exactly how much exercise your puppy should be doing.
You don't want your puppy to get overwhelmed. To help with this, you might also want to pick a familiar route that you know is short and quiet.
That way you can ensure that the new experience is controlled and positive. This avoids too many other people, dogs, traffic and sounds that could be too much and make them worried on their first walk.
Over time you can then start to build up the walks, so they are longer and begin to vary the locations.
Remember, patience and consistency are key – go at their pace and make sure they are always having a good time.
Top tip: Once you have successfully completed their first walk, keep the above tips in mind to make sure every walk is an enjoyable experience. Continue to practise walking nicely on lead and coming back when called in lots of different places.
Once you have mastered the basics you and your puppy will be set up for success and can look forward to lots of fun walks together in the future.
Get started with training at our weekly classes
Related articles

Vet care essentials
What vaccinations does my puppy need?

Your puppy
Introducing your puppy to the world around the...

Basics
How to train your dog to come ...